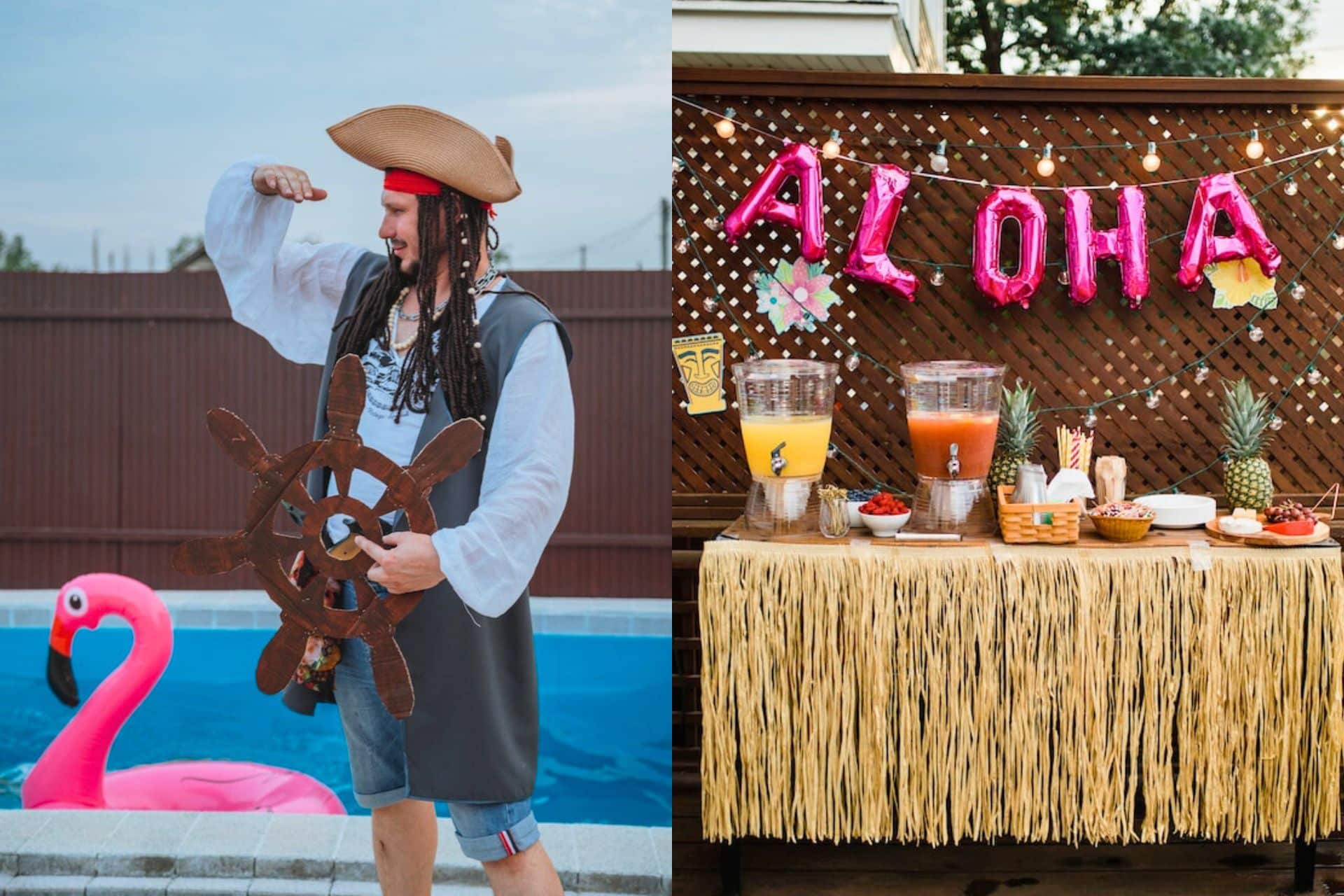 Ah, summer. The kids are out of school or home from college, vacation time is on the horizon, and long, hot, lazy summer days are stretched out in front of you just waiting for you to enjoy. It's the perfect time to host a summer backyard party.
Whether you plan a backyard barbecue, family celebration, or neighborhood get-together, summer weekends are the perfect time to gather with friends and family to host a summer party.
One way to make your party even more fun is to have a theme. It's easy to plan one that all ages will enjoy, from toddlers to grandparents. From the food to the decor to the games and entertainment, putting together a family-friendly themed summer party is easy and fun and a great way to celebrate any milestone or just have a spectacular weekend!
1. Hawaiian Luau
Nothing says summer fun like palm trees, waterslides, and fruity drinks. This tropical-themed party is easy to plan with great food and drink options, along with some fun entertainment that will transport your guests to a tropical island, complete with waves!
Set the tone for your luau with our inflatable Tiki Bar. Make this colorful Hawaiian-inspired inflatable the refreshment hub for your party! Escape the hot Dallas sun while you mix up some chilled pineapple and coconut concoctions for your guests to enjoy!
Bring on the fun with our kid-and-adult-friendly double lane Tropical Slip-n-Slide, a 23-foot tall double slide with 60' feet of slippery fun and a pool at the end for the ultimate splash down! Beat the Texas heat with this super fun inflatable!
Our Big Kahuna Double Slide is another one of our adult inflatables with two fun waves on the way down and two big friendly fish at the end to add to the smiles all around. Or give the little ones their own play area with our smaller Luau water slide with a shallow splash pool or our Volcano water slide.
With a luau-themed party, the food is both easy and fun. Kabobs on the grill, a fruit bar with toppings like shaved coconut, and tropical drinks. Check out these free luau printables from DIY Inspired to help decorate your table.
2. Carnival
What could be more fun than a carnival-themed backyard party complete with midway concessions and our Wipeout water slide? Safe for both kids and adults, this slide is a fun way to cool off in the Dallas summer heat!
Add a carnival game like our velcro wall, also geared for both adults and children, or let everyone try their hand at World of Sports, a four-in-one inflatable game with football, soccer, basketball, baseball, and darts or Frisbee. Our giant inflatable soccer dart game is also kickin' good fun!
Continue the carnival theme with our popcorn machine rental to keep things poppin' and what's a carnival without cotton candy? Swirl up some spun sugar fun for the little ones, and keep things cool with rainbow-hued Snow Cones, a refreshing treat in the Texas heat!
3. Pirate for a Day
You don't have to wait for Talk Like a Pirate Day to host your very own pirate-themed party. Start with our inflatable pub where the adults can hoist a pint with their mateys while the little scallywags walk the plank down the Shipwreck Water Slide!
Serve root beer floats to the little lads and lassies, that is if you can get them to abandon ship for a moment! Games can include a backyard treasure hunt to look for the pirate's booty!
Grill up some chicken daggers, pirate ship hot dogs, and a watermelon pirate ship fruit bowl for a refreshing dessert! Don't forget the classic freshly popped popcorn (with us bags, kernels, and a table for set up are included!).
4. Backyard Beach Party
Bring the beach to your backyard into a beach with our Tropical Slip-n-Slide!
Nothing says summer fun like cooling your toes in the pool! Turn up the heat on the grill and throw on some burgers and wings! Take a refreshing slide down the Big Kahuna or Wipe Out water slides! Then kick back with a beachy-themed drink!
Make a Splash This Summer With Jump City's High-Quality Inflatable Rentals
Discover more ways to make a splash this summer and get started planning your summer celebration! We offer free set up, delivery, and pick up in the Dallas area on all of our inflatable water slides, bounce houses, and inflatable games making your summer backyard celebration stress and hassle-free!
Contact us today to reserve your Jump City inflatable or concession rental to make a splash with your next party!