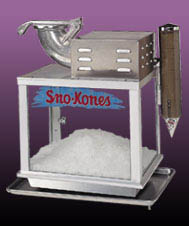 Included in the rental :
Snow cone machine
Banquet table for set up
Supplies for 50 servings (i.e. 50 cups and 7 syrup flavors)
Ice

not

included
Additional supplies available:

$20 for each additional 50 servings (after the first 50 free serving supplies)
Snow Cone Machine
Jump City's Snow Cone Machine rental is the perfect way to create icy, sweet treats to help you beat the scorching Texas summer heat. Simple setup, minimal prep, and low maintenance – perfect so you can enjoy the rest of your event. Create classic snow cone flavors or mix up with your own delicious combo. Watermelon-pineapple anyone?
It's simple! Plugin the machine, pour a scoop of ice cubes into the top funnel, push the button, and voila! Your newly crushed ice will drop into the bottom of the machine ready for your yummy syrup flavors. Sweet and/or sour – whatever flavor you crave, you can make it your own.
Snow cone machine rentals are great for (but not limited to):
Summer celebrations
Pool parties
Summer camps
Festivals & carnivals
Back-to-school events
Summer holidays (Memorial Day, 4th of July, Labor Day)
If you need ideas on how to throw the best snow cone party, check out our summer fun snow cone party tips!
Interested in renting a snow cone machine?