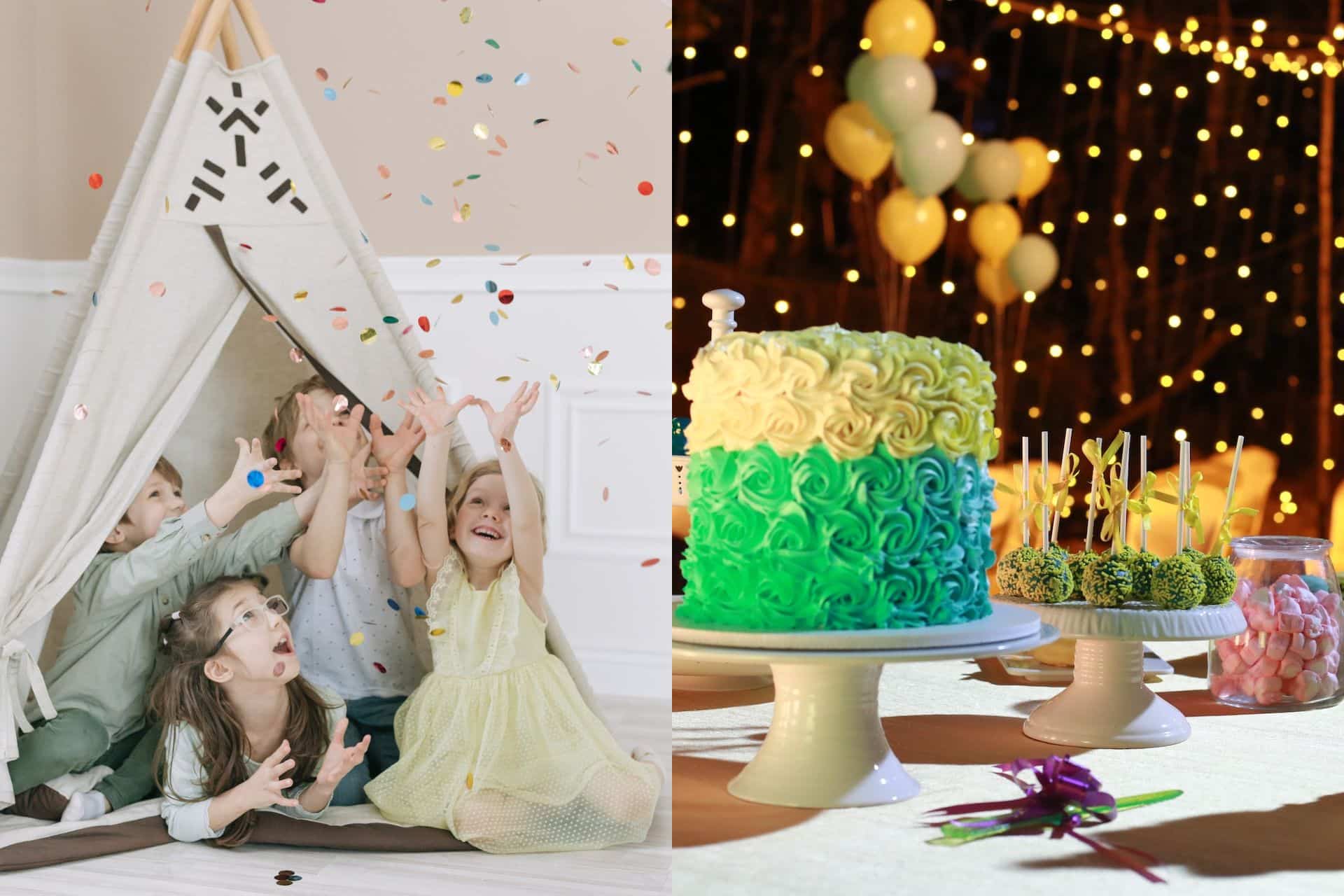 After several years of low-key gatherings, kids' birthday parties are back big in 2023!
The overall theme is over-the-top everything! From decor to dessert, it's go big or go bigger, with amped-up decor, heavy on themes, interactive entertainment, selfie stations, and more!
Dallas area moms and dads, discover these trends when planning your child's next birthday party!
1. Glamping
What's glamping? It's like camping just without the bugs and the outdoors! This is camping with all the luxuries of home, plus a touch of glamor. Create a fun campfire atmosphere with indoor tents, fairy lights, lots of pillows, and fun food on a stick. You can even have an adult tell "ghost stories" and serve mugs of hot chocolate topped with marshmallows or whipped cream for a truly authentic glamping experience!
2. Go BIG On Party Themes
Themed birthday parties never go out of style, but for 2023, we are going a little bit extra! First, choose a theme that your child will love, then go all in with the decor! Whether it's Choo-choo trains or Monster Trucks that get your child's engine revving, go with matching decor all around, from invitations to napkins and party favors! You can even create a balloon installation that matches your child's theme.
3. Selfie Stations
Everyone loves to strike a pose — from little ones, to 'tweens, teens, and adults! Why not give them the ultimate in Insta-backdrops with a cool selfie station with all the props! Features like a balloon garland or installation in a color and style that complements your theme, fun fashions for the kids to try on, and a dessert or snack tablescape as part of the backdrop will be the hit of the party! Grab a snap and share!
4. Kiddie Mocktails
Kiddie Mocktails are a fun way to make your baby feel all grown up whether they are turning 3 or 13! Curated, decorated, sweet, and fizzy, draw on your theme for inspiration! Pirates in da house? Go for buckets of Swashbuckler's brew (Roy Rogers with Root Beer!) For a healthy treat, try a fresh fruit beverage like watermelon agua fresca. Add a splash of seltzer for some fizz, toss in some colorful berries, and serve them in fun containers like plastic coconuts. You can even serve them from an inflatable tiki bar for a truly tropical bash!
5. Over-the-top Bounce Houses
The days of the basic bounce house are over. With so many different themed bounce houses available, you can choose one that matches your kiddo's interests. From castles and princesses to monster trucks, camo, and spiderman, your little one will be pumped to play in one of these. You can even add balloons and other decor to amp up the theme and add to the fun!
6. Interactive Entertainment
Make the entertainment interactive with a glam station where the kids can have their faces painted, get face jewels, temporary tattoos, hair tinsel, or braids! For more active entertainment, plan a scavenger hunt or turn your backyard into a fun competition with one of our Inflatable games or obstacle courses, like the adrenaline rush which features 80 feet of challenges each lane, with tunnels, log jams, crawl-throughs, up-and-overs, rock climbs, and slides! The camo course is a popular one and features 100 feet of nonstop fun for all ages! It even includes sunscreen windows on the side so you can keep an eye on the little ones!‍
7. Balloons Galore
Balloons are a fun addition to any party but we're not just talking about balloon animals or bunches of colorful balloons on a string! Go big with a balloon installation with your child's age or name spelled out! Choose shades that complement your theme or go wild with balloons in all colors and shapes and sizes! Not only do balloons add a festive element to any party, but a beautiful balloon garland makes a great backdrop for photos!
8. Festive Food
What's a birthday party without cake? But there are so many other fun foods you can include to make your child's party feel festive. Rent a cotton candy machine and twirl up some spun sugar in fun flavors or let the kids spin up their own, with adult supervision, of course! You can even use small puffs of cotton candy at toppers for those creative mocktails! Pop up some fresh, hot popcorn and have a topping station where kids can add their own choices like powdered sugar or caramel glaze for a sweet treat.
9. Personalized Everything
Who doesn't love to see their name in lights? Or Letters? And your child's birthday is the one day of the year when they truly are the star of the show! Make your child feel that way with personalized everything! Cakes aren't the only thing that can be customized with your child's name! And customizing is easy and fits every budget! From hand-lettered signs, DIY printable letters, marquee lights or letters, neon signs, and customized sweets, just about everything can be emblazoned with your child's name!
10. Don't Forget The Adults
We know the party is for the kids, but can't the adults have fun, too? Give the parents
something to do, and have them take turns, whether it's storytelling, face painting, hair braiding, or putting on temporary or henna tattoos! Then let them kick back with a not-so-mocktail! If you are hosting outside, you can even have a separate parent relaxation station in an inflatable pub!
Now that you know the most happening trends for children's birthday parties this year, start planning by calling us for a free quote on inflatable games or bounce houses, concession stands, and extra tables and chairs to accommodate all your guests, both pint-sized and full-size!
We'll help you make your child's birthday party the most memorable event of the year!
You may also like…