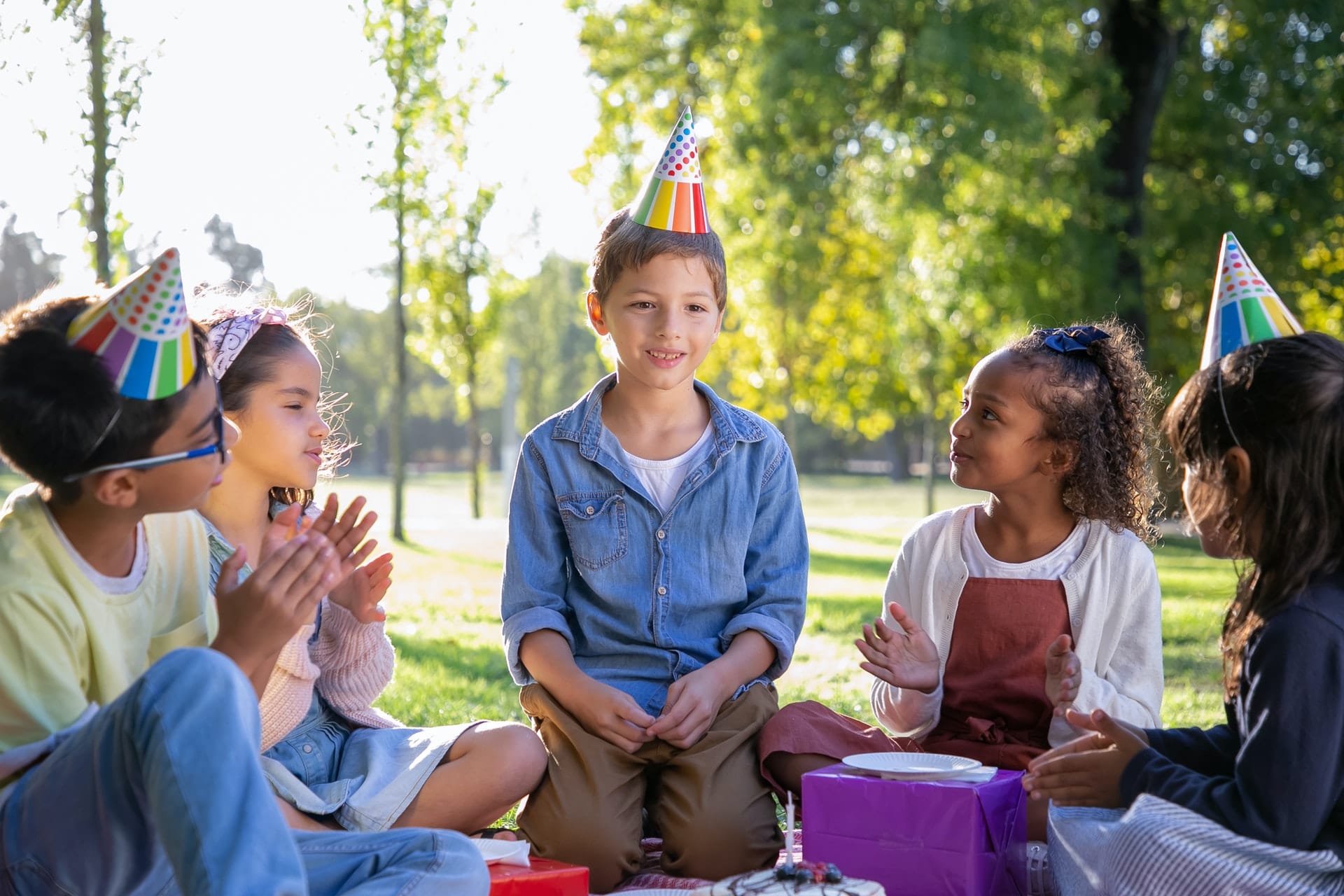 Now that spring is here and the weather is warming up, it's a great time to host an outdoor event. If your child's birthday is coming up, they may enjoy celebrating it outside so they can run around and play with their friends. However, you might not have enough space in your backyard to host all of your child's classmates. In that case, it may be better to have your child's birthday bash at a nearby park.
A public park is an ideal place to throw a children's party. It's an affordable venue with built-in entertainment like swings and playsets that will keep guests occupied for hours. However, there are some logistics you'll need to sort out before the party to ensure the big day goes to plan. Here's everything you need to know to throw an unforgettable birthday party at your local park in North Texas.
Scope Out the Park in Advance
Even if you've visited your local park before, it's a good idea to stop by and make sure it has everything you need for the party. Check to see if there are electrical outlets, bathroom facilities, and functioning barbecues if you want to have a cookout.
Make sure there's enough shade and seating for everyone invited. If not, you may need to bring some things with you on the day of the party, such as a portable generator, folding chairs, or a pop-up shade tent.
As you're walking around the park, you should also scope out a spot for the event. It may be best to choose a pavilion or location that's close to the entrance so you don't have to haul party supplies a long distance. Once you've chosen a party area, take a few photos that you can reference later when you're planning your decorations.
Make Park/Pavilion Reservations
Some cities in North Texas allow you to use park space for events on a first-come, first-serve basis. However, other cities including Plano and Frisco require you to reserve the pavilion you've chosen a few weeks in advance. You might have to pay a small fee to use the park for your event. You may also be charged additional fees if you plan to set up a generator, tent, or bounce house.
The city of Plano, for example, charges a $25 amusement fee if you bring inflatables to your party. Frisco also requires you to pay $50 for a generator permit, $75 for a tent permit, and $100 to set up a bounce house for half the day. Reservation policies and fees vary, so call your city or check the parks and recreation section of their website for more information.
Have a Backup Plan for Bad Weather
April and May are the wettest months of the year here in North Texas. So if you're planning a party in the park this spring, you'll need a backup plan for inclement weather. Decide in advance if you're going to reschedule the party in the event of rain or relocate to an indoor venue such as your home.
Put the rain date or alternate location on the invitation so guests know what the backup plan is. Make sure guests give you their phone number when they RSVP as well. That way you can contact them if you need to reschedule the event or change locations due to severe weather.
Choose Your Theme and Decor
Since you'll have to take all the decorations down at the end of the party, it's best to keep things simple. Let your child choose a theme such as their favorite movie, character, or color. If they need some theme ideas, Encanto, Minecraft, Harry Potter, mermaids, and space adventure parties are popular this year.
All you need to make the park feel festive are a few well-placed decorations that match the theme. A couple bunches of balloons, a banner or two, and a festive tablecloth and centerpiece will go a long way. Remember to bring supplies to secure the decorations so they don't blow away, such as tape, twine, balloon weights, and tablecloth clips.
Be mindful of any rules your city has about attaching decorations to park property. Frisco, for example, doesn't allow you to affix party decorations to pavilions or picnic tables with tape, nails, staples, or anything else that could cause damage.
Plan Your Park-Friendly Menu
No birthday party is complete without food and drinks! If your event is in the afternoon around lunch or dinner time, your guests will be extra hungry, so it's a good idea to serve a full meal. Sandwiches and wraps are easy to make at home and transport to the park. Pair them with some pre-packaged snacks like bags of chips, apple slices, and cheese sticks for a complete lunch.
If your local park has working barbecues, you could have a cookout instead. Hot dogs, hamburgers, grilled corn on the cob, and pasta salad are big hits with kids. However, if you think you'll be too busy mingling with guests to man the barbecue, you can order a few pizzas and have them delivered to the park.
For dessert, cupcakes may be a better option than a traditional birthday cake. Cupcakes are usually easier to serve outdoors because they don't require plates and forks. To make your dessert spread extra special, you could even rent one of our cotton candy or snow cone machines. An icy, refreshing snow cone is the perfect treat to end a long day of fun at the park!
Last but not least, don't forget to provide drinks so guests can stay hydrated. Bring a cooler with ice to the park and fill it with healthy drink options like water, juice, and iced tea.
Provide Entertainment
Although most parks already have entertainment like sandboxes and swings, organizing extra games and activities will make your child's party even more memorable. Bring some balls and frisbees so guests can play soccer or catch. Chalk, jump ropes, bubble wands, and kites are also fun for kids to use at the park.
Kids and adults alike enjoy playing competitive games such as manhunt, freeze tag, capture the flag, and tug of war. You could even set up a board game or lawn game station with favorites like Jenga, Monopoly, cornhole, and ladder toss.
Make Your Party Extra Special With a Bounce House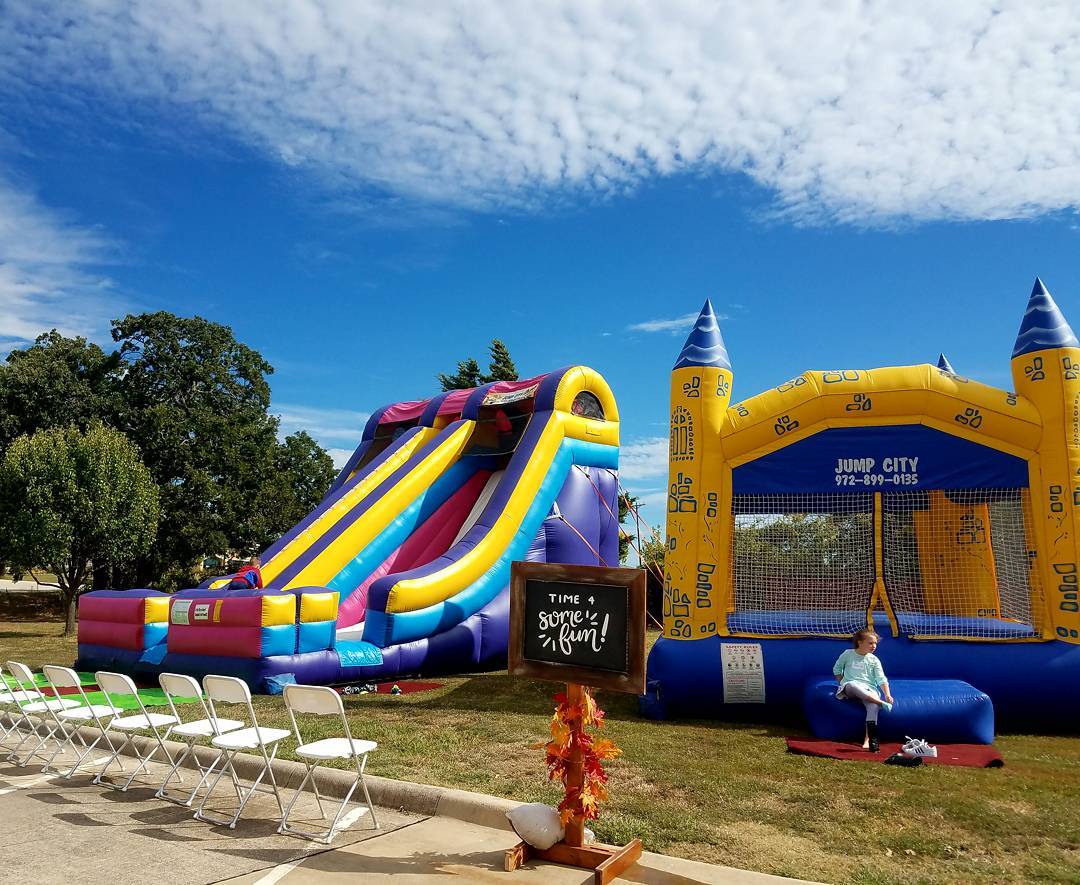 Parks are an affordable venue, so you may have some money left over in your party budget if you go this route. Consider using those funds to make your child's birthday extra special by renting a bounce house inflatable.
Believe it or not, you can set up a bounce house in most public parks. All you need to do is get permission from the city to have an inflatable at your party and we'll handle the rest. Please check city guidelines beforehand because as we mentioned above – they can vary.
We provide free delivery, set up, and pick up for all of our inflatables. We also rent generators to ensure you can still operate your bounce house even if the park doesn't have electricity. If severe weather is in the forecast, we'll reschedule your delivery or issue a refund of your deposit, whichever you prefer.
Feel free to contact us if you have any questions or want to reserve a bounce house for your child's special day.