The scorching, sometimes record-breaking, summer heat in Texas can sometimes be enough to keep you inside most of the day but, our steamy summer days are also the perfect opportunity to cool off with a slippery slope down a Dallas water slide.
A trip to the water park can be expensive and time-consuming, not to mention frustrating. By the time you get everyone in the car, battle the traffic, and shell out the money for parking and tickets, more than the temperature might be steaming!
Why not keep your cool, avoid the lines and crowds, and turn your backyard into a water park with your own personal inflatable water slide rental!
What better way to beat the heat than with a sizzling summer backyard party!
Benefits of Renting an Inflatable Water Slide
Hassle–Free Everything: All of our inflatable water slide rentals come with free delivery, set up, and tear down/pick up in the Dallas area. That means less stress for you, and more time to enjoy your party!
Convenient & Affordable: Instead of packing everyone in the car and heading out to the water park, we bring the water park to you with our Dallas area inflatable water slide rentals! Stay home, save money, and keep cool, without scrimping on fun!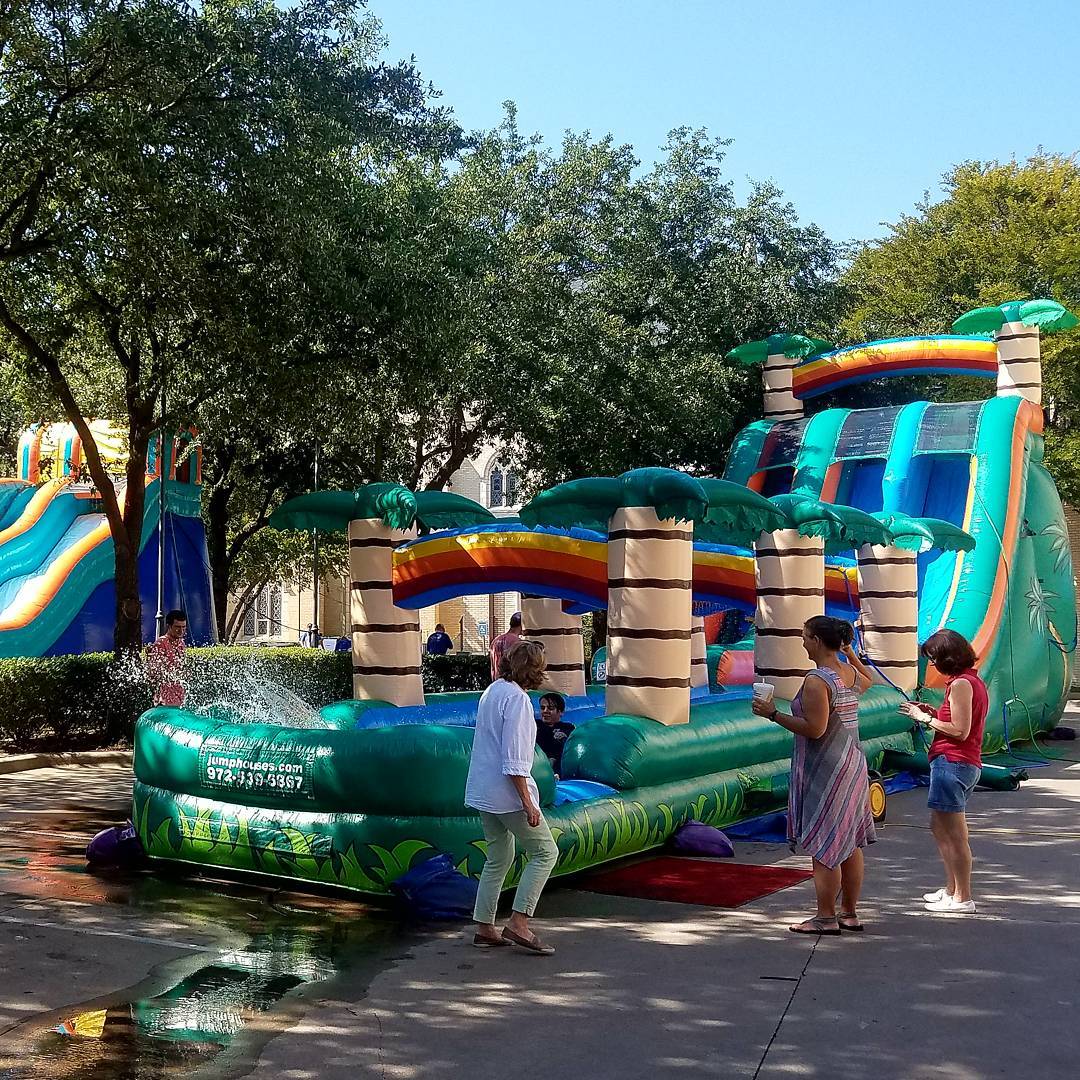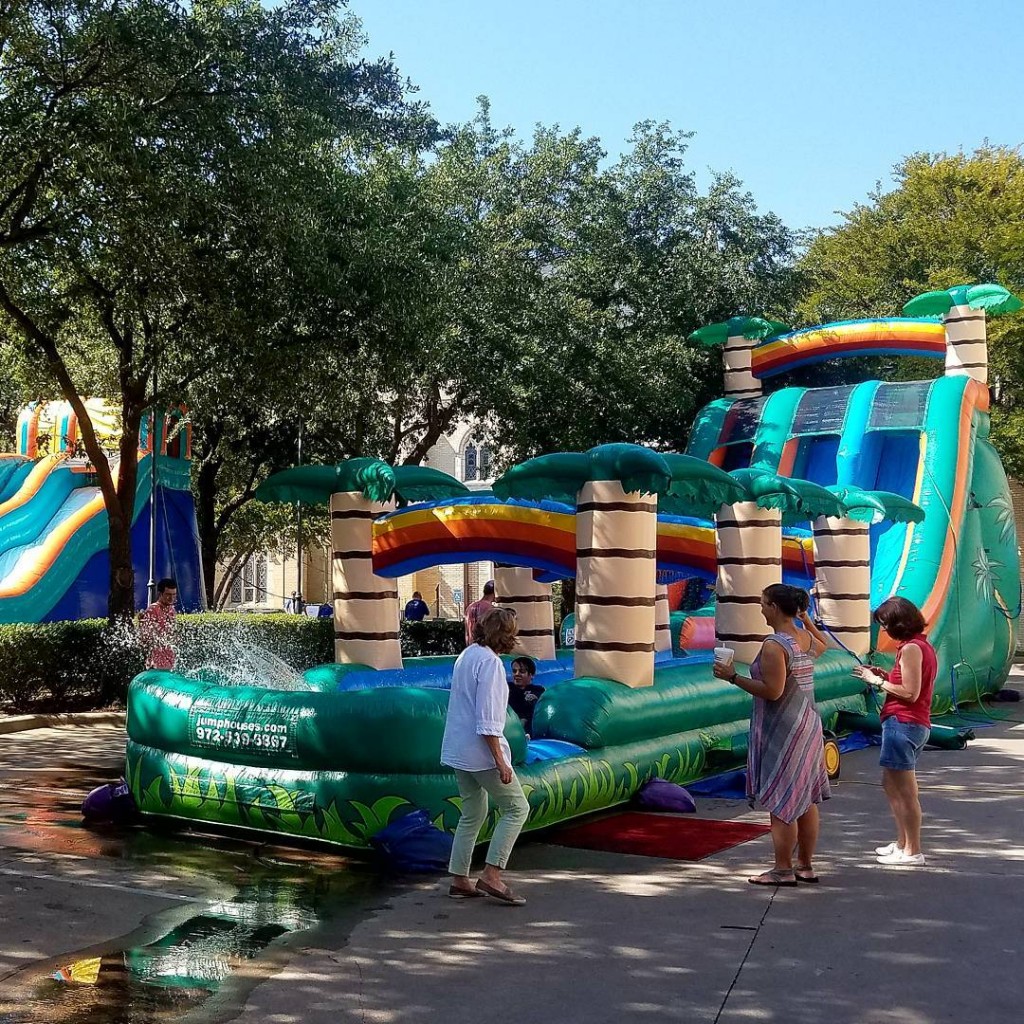 How to Choose the Perfect Inflatable Water Slide for Your Party
Who Are Your Guests?
Before deciding on which inflatable water slide to rent, you will need to consider your guests. Who will be attending your party and using the water slide?
If you are hosting a children's party, we have plenty of kid-friendly water slides and inflatable slip and slides that are perfect for children to enjoy.
If you want the adults at your party to be able to splash down as well, then choose one of our adult inflatable water slides like our Big Kahuna or Wipe Out water slides, or our double lane Tropical Slip and Slide and Water Slide. Whichever one you choose, it is sure to be a hit with the adults at your party.
Considerations with Inflatable Rentals
When renting an inflatable water slide, or any inflatables, there are certain criteria you will need to consider while planning to make sure your water slide or inflatable can be set up and used safely at the location where your summer party will happen.
Space
Whether in your backyard or a neighborhood park, you will need to make sure the location has the necessary space to accommodate the inflatable you choose, including fairly flat, even ground where you plan to have the water slide set up. In the description of every one of our water slides and inflatable games, we provide the length, width and height needed to properly set up and use that particular inflatable.
Safety
Safety is our first priority when it comes to our inflatable water slides and our other inflatables, and it should be yours as well. All of our inflatables are manufactured from materials that are free from lead and safe for children to play on. Always follow all safety precautions, including weight restrictions, when using any of our inflatables.
We also recommend that young children be supervised while they are playing on any one of our water slides to insure that everyone has a safe, good time.
Electricity
Wherever you plan on having your water slide rental set up, you will need to make sure the location has easy access to an electrical outlet, sometimes more than one. We include the number of outlets needed, and the amps required in the description of each of our water slides and inflatable games so that you can be sure the location you choose has electricity available that can accommodate the equipment.
Water
In addition to electricity, our water slide rentals need access to an outdoor water source or spigot. When considering locations for your party, you'll need to take this into consideration as well.
Insurance & Permits
Our contracts outline what our company insurance covers when it comes to our water slide rentals. Before renting any inflatable water slide for your backyard party, you should be aware of your homeowner's or renter's policy coverage in the event of an accident or injury.
If you are holding your party at a park or other public space, you should be aware of any permit and insurance requirements the location might have in place and allow yourself the necessary time to obtain those before your party.
Reviews
Before you rent an inflatable water slide or inflatable game from us, read our reviews. With nearly 300 5-star reviews on Google alone, you know when you rent from us, you will get excellent, prompt and courteous customer service, along with clean, quality equipment, at a reasonable price.
Ready to Reserve Your Inflatable Water Slide?
Now that you know everything you need to know about renting a water slide, you are ready to reserve yours today!
Beat the Texas heat at your next summer celebration and add some refreshing fun to the party with an inflatable water slide rental.
Create an even more festive vibe with an inflatable game or concession rental to add to the entertainment options. Our Snow Cone Machine is the perfect addition to summer parties. Serve up some sweet, icy treats that will keep guests cool.
With our no-hassle free delivery, set up and tear down/pick up on all of our inflatable rentals in the Dallas area, you can't go wrong!
Contact us today for a free quote on your inflatable water slide rental and create a big splash at your next sizzling summer outdoor party!