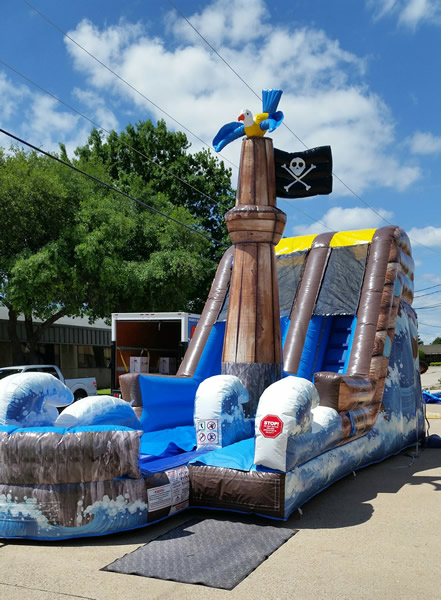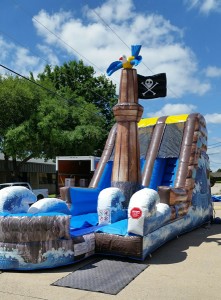 Bounce House Specifications:
Setup: Grass, Concrete
Space Required: 16′ x 35′
Outlet Required: 1 – 20 Amp
Weight Limit: 150 lbs per rider
Safe for Children: Yes
Safe for Adults: No
Fire resistant: Yes
Lead free: Yes
Ship Wreck Water Slide
Ahoy friends! Calling all sea-lovers, pirates, mermaids, and sailors – Jump City's Ship Wreck Water Slide rental offers refreshing, fun, and unique entertainment for those hot Texas summer months and warm spring days. The kiddos won't want to abandon this pirate ship inflatable. There will be endless mighty sea adventures on our inflatable pirate ship water slide while the outside will delight all the guests with its captivating nautical appearance that includes a pirate flag and its own parrot. Even the most savage pirates care about safety which is why our water slide rental features fire-resistant and lead-free material.
This pirate ship water slide can easily be set up on grass or concrete which makes them great for backyards, front yards, schoolyards, parking lots, and even certain areas of parks! Free no-contact delivery and pickup are available for all inflatable rentals to your Dallas-area event. Interested in learning more about this inflatable Ship Wreck water slide rental? Fill out the form on this page or call us at 972-539-5867 and we'll get back to you soon.
This Ship Wreck Water Slide is most popular for the following events (but can be a great addition to more):
Sea and adventure-themed parties

Grand openings

Summer camps

End of school events

Summer holidays (4th of July, Memorial Day, Labor Day, etc)

Pool parties
Summer block parties