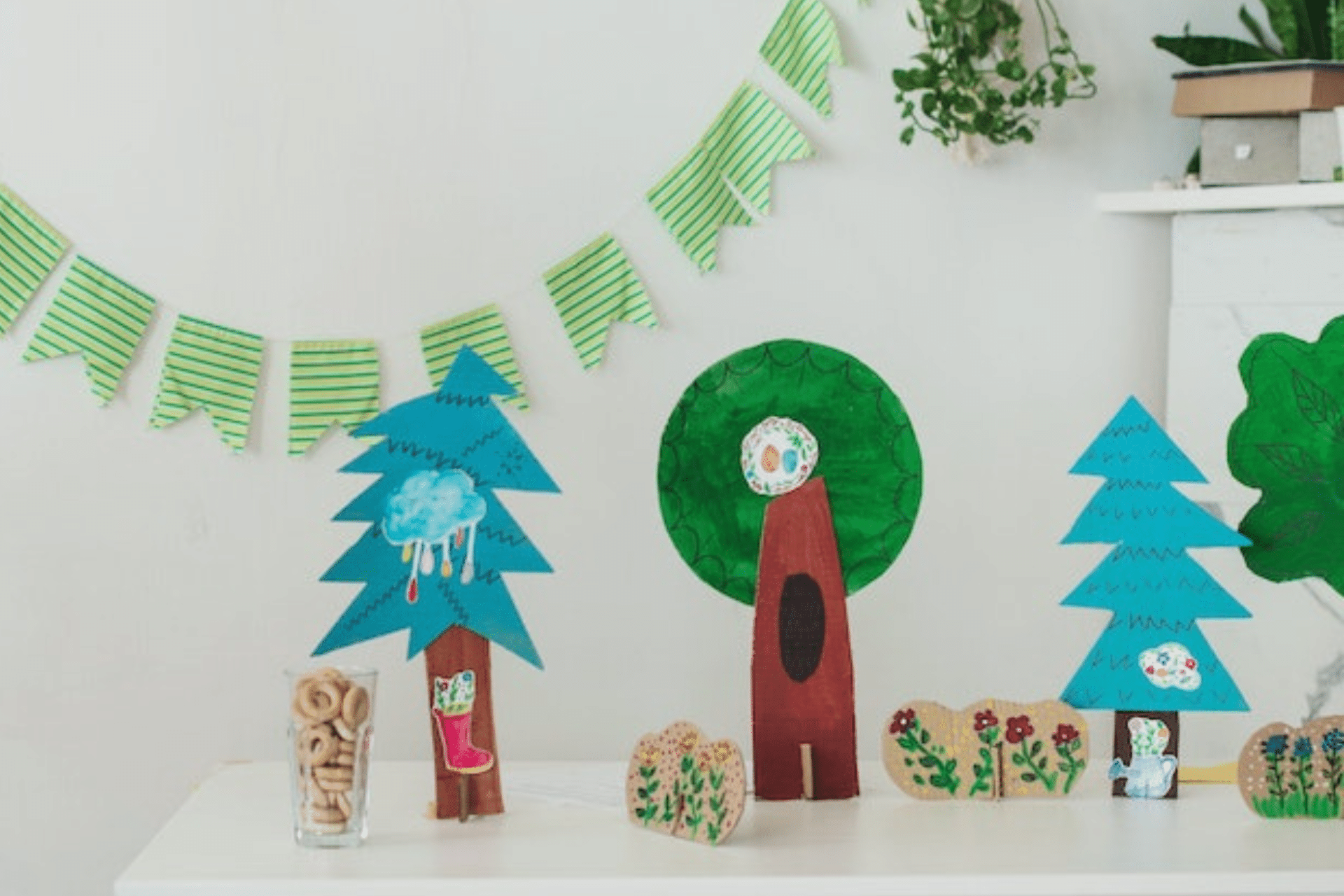 Planning your child's birthday party can be fun, but can often have pressure to create a party your child will remember. Plus add in trying to be more environmentally conscious, it can seem tough to make these sustainable switches without doing a huge overhaul of how things are typically done. Luckily, we've found some easy and fun switches below so youu have to sacrifice fun and beauty to create a memorable event.
In honor of Earth Day coming up, here are 7 easy switches to make your child's next birthday paper more sustainable and eco-friendly.
1. Go with Paperless Invites
Who needs one more piece of paper cluttering their kitchen counter? Why not avoid waste and switch to virtual invitations? Simply create a digital invitation (or purchase a template online) and send them out through text, email, or even via social media channels!
You could also consider online invitation platforms like Evites. You can create beautiful digital invitations that are easy to customize, with some animated options, which can be fun to receive. Since they are sent by text or email, it is easy for the receiver to save the date on their digital calendar, where they can even set a reminder.
Paperless Post is another option for digital invitations and offers a free option to send out to 50 people.
2. Switch from Disposable to Reusable or Recyclable Supplies
Switching out your party supplies to be more eco-friendly and sustainable is one of the best and easiest ways to create a more sustainable patty. Remember if it seems too overwhelming to switch supplies, not all your party supplies need to make the switch. Pick one or a few supplies and slowly swap out your current supplies.
You may not want to use your good china with toddlers, but inexpensive melamine plates can be purchased for about the same price of disposables. You can even rent party supplies this Boho Chic Party Kit with everything you need and have it shipped to your home.
If you must go with disposables, choose sustainable options like bamboo or compostable plant-based plates and cutlery, and paper plates made from recycled materials. If you choose paper straws instead of plastic and avoid Styrofoam, you are already doing better for the environment.
3. Eco-Friendly Party Decorations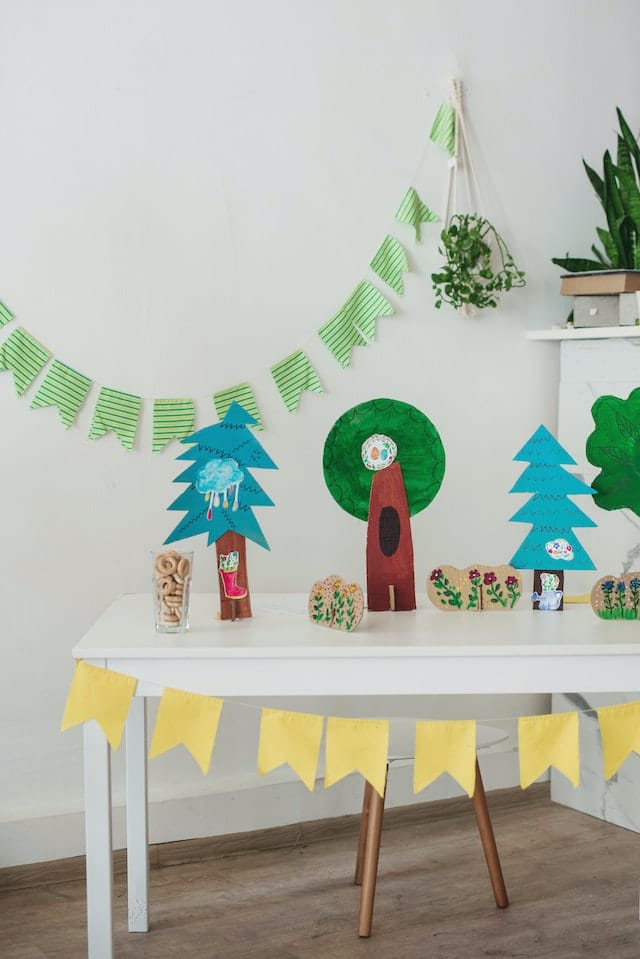 Instead of balloons and plastic banners go with homemade banners using recycled materials like colorful pieces of cloth. Short on time? You can purchase a multitude of eco-friendly party supplies like handmade cloth banners, biodegradable pastel bamboo plates, colorful striped paper straws, and more from online shops like Etsy and Amazon, as well local boutique shops, and even big box stores. The Etsy party shop even has cute designs you can print out and glue onto wooden toothpicks to create cake or cupcake toppers and more.
4. Borrow, Barter & Trade
Just like in the good old days, when people used to trade for what they needed, reach out to your network and see what is available. Often, birthday party supplies are used once and tossed in the trash or put in storage and never used again.
Reach out to your close family and friends and see what decor and supplies they have on hand.  You can also heck sites like your Dallas area Freecycle, Buy Nothing, and Facebook Marketplace sites. If you have a neighborhood group, check with other moms and dads and see if anyone has any leftover birthday party decorations and supplies. Chances are, they will be happy to see them get repurposed.
5. Edible Party Favors
Skip the cheap party favors and goodie bags full of plastic toys that will eventually get broken or lost at the bottom of the toy box. The other parents will thank you! Instead, have a cupcake decorating bar, where the kids can put fun toppings on their cupcakes to take home or eat there. Do the same with healthy options like edible flowers and fruit. Or opt for an earth-friendly seed-planting party where the kids get to plant their own mini-garden with flowers or herbs to take home. Either way, it's a win for the environment and the kiddos.
6. Switch or Skip the Wrapping Paper
Did you know that most wrapping paper is not recyclable? With all the additives like glitter and foil and plastic coating, it is just one more thing that ends up in the landfill. For more eco-friendly options, reuse paper gift bags, or use fabric gift bags, comics from the newspaper, switch to recyclable wrapping paper or even use your child's artwork!
7. Host an Experience Party
Experiences create lasting memories more than any purchased gift. Interactive entertainment is on trend this year so plan your party around an event your child will enjoy. Depending on their age, you could host a pottery-making or pottery-painting party at a Dallas area shop, or set up a craft station in your home where the kids can make beaded name bracelets. Head outside and host the party at a local playground or park, or go on an outing to tour the local fire station. Whatever you choose is sure to be more meaningful and memorable and isn't gathering with friends and family to celebrate really what matters?
BONUS: Rent a Bounce House
Turn your backyard or local park into an entertainment station with a bounce house or inflatable game. We have bounce house themes and inflatable games for all ages and interests from toddlers to teens.
Our World Sports Game features five games: football, soccer, basketball, baseball, and darts or Frisbee, all under one inflatable play structure! We even have inflatable obstacle courses, dry slides, and combo bounce houses, with climbing structures, slides, and tunnels.
Elevated Fun With Jump City Dallas
No matter which inflatable you choose, Jump City Dallas does all the work for you. We offer free delivery, set up, and pick up on all of our inflatable rentals. We even have concession rentals like popcorn, cotton candy, and snow cone machine rentals to kick the party up a notch!
Need extra tables and chairs? We've got you covered there too, including an adjustable-height table perfect for toddlers and little ones.
Contact us today for your free quote and to reserve one of our bounce houses or inflatable games and all your birthday party essentials. We'll help you make your child's next birthday party fun, sustainable, and stress-free!