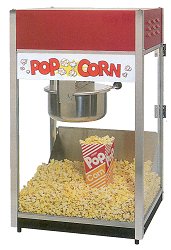 Included in the rental:
Popcorn machine
Banquet table for set up
Supplies for 50 servings (i.e. popcorn kernels and paper bags)
Additional supplies available:

$20 for each additional 50 servings after the first 50 free serving supplies
Popcorn Machine Rental
Life is butter with fresh popcorn. Toss aside that old popcorn bag that's been in your pantry for who knows how long. Bring home this popcorn machine rental and get warm, fresh popcorn right to your next event or celebration! Simple operation, quick prep, and easy upkeep – just what you need for an event so you can spend more time having fun and celebrating! If you're ready for the delicious, buttery smell of fresh popcorn to fill the air, consider our popcorn machine rental for your next event!
No matter what event or celebration you're planning, having fresh popcorn is a delightful addition to your event. Make classic butter popcorn or mix it up and create your own flavors – sweet, salty, or savory. Our popcorn machine will create the perfect treat and for those with a sweet tooth, simply pop the kernels without seasoning then put it in a separate container and mix in your sweet ingredients (like honey, brown sugar, vanilla, and/or cinnamon).
This popcorn machine is popular for (but not limited to):
Carnivals / carnival themed events
Festivals
Birthday parties
Grand openings
Movie nights / movie-themed events
If you're thinking about throwing a movie night or movie-themed party, check out these trending movie-themed party ideas that will impress your guests!
Learn more about renting a popcorn machine!