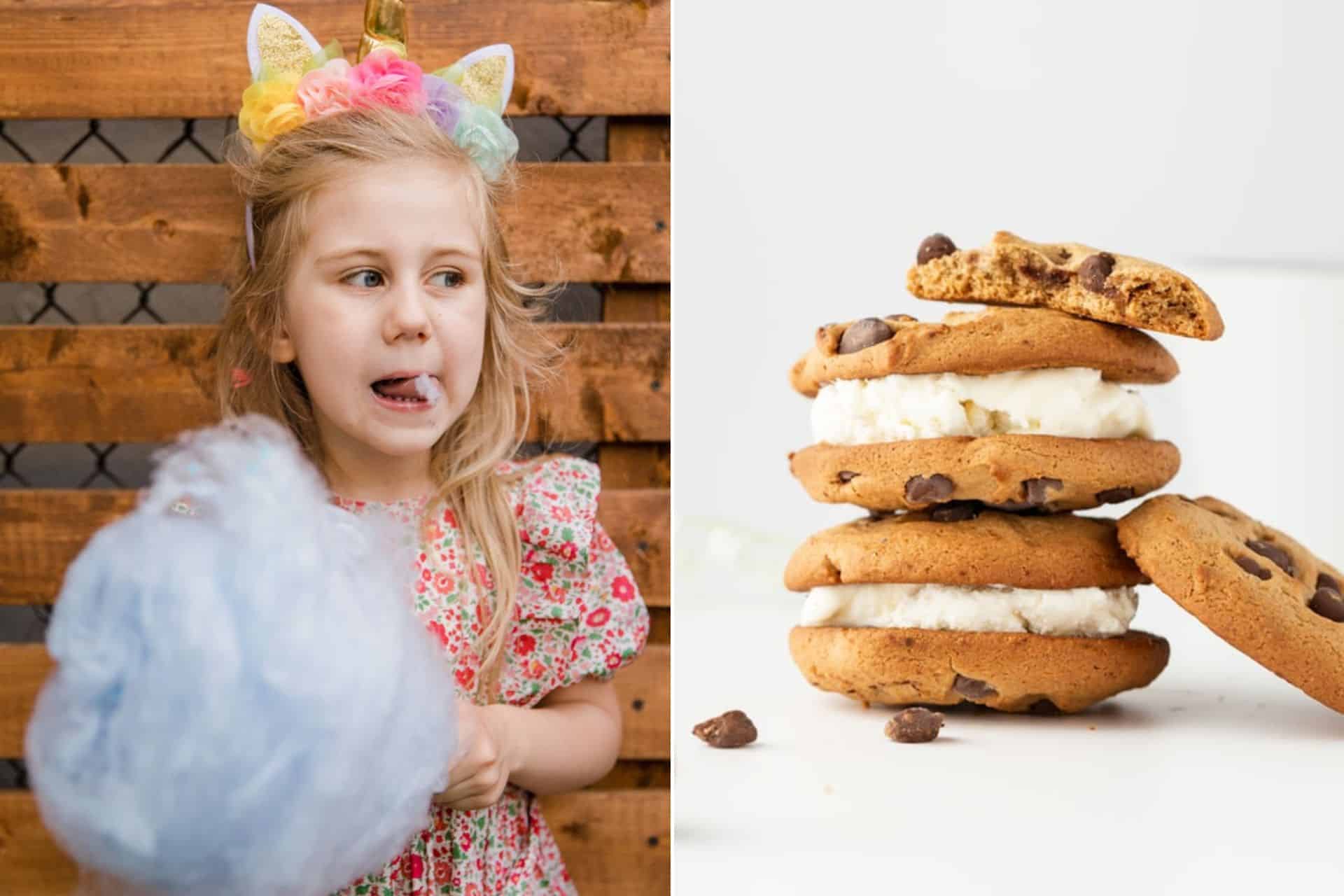 Birthday cakes are a staple for many kids' birthday parties but sometimes you (or your kiddo) may want to mix it up a little bit. Whether it's because you're not a baker, or your kid's not a cake person, or for whatever reason – we've gathered 15 equally delicious (maybe even more delicious) birthday cake alternatives.
Serve up these 15 yummy treats instead of cake at your next birthday party or kids' celebration and watch your guests dive into a yummy, festival of fun.
1. Snow Cones
If you're having a summer birthday party, nothing beats the Texas heat like an icy snow cone drizzled with your favorite syrup (or a mix of your favorite 5 syrups). Our snow cone rental machine comes with seven slurpable flavors and 50 cups, so there is plenty to go around!
2. Ice Cream Floats
Root Beer, Coke, Orange Crush? Did someone say Creamsicle? Serve up mugs of fizzy fun with your favorite soda poured over scoops of vanilla ice cream for a refreshing summer treat! Don't forget the straws.
3. Cotton Candy
Who doesn't love spun sugar? Twirl up some fun with authentic, freshly-made cotton candy from our candy machine and turn your backyard into a carnival. Your rental comes with all the sugar floss and paper cones for 50 rushes of fun.
4. Donut Tower
Breakfast for dessert, anyone? Why not! A quick and easy substitute for birthday cake – donuts are everybody's favorite breakfast treat so just serve them instead of cake. With so many flavors to choose from, you can make sure everyone gets their favorite. Or, you can even get plain donuts and have your guests and kiddos make it their own flavors with sprinkles and different icing flavors.
5. Birthday Cake Popcorn (or Other Sweet Flavors
Mmmm, fresh, hot, crunchy popcorn with a sweet twist. Your guests won't be missing the birthday cake after they try some delicious birthday cake-flavored popcorn made with popcorn, white cake mix, vanilla, marshmallows, and butter. To elevate this treat, try using freshly-made popcorn at your next party using our high-quality popcorn rental machine. We provide the popcorn kernels and bags for 50 people, you provide the toppings.
You can also try one of these other yummy sweet popcorn recipes like caramel,  cookie butter, oreo, and more!
6. Waffle Sundaes
Waffles are another breakfast for dessert winner that also makes a great ice cream holder! Warm, toasty waffles topped with ice cream, whipped cream, sprinkles, fresh fruit, or whatever else your heart desires. These mini waffle sundaes are sure to be a hit as they are quick and easy to customize.
7. Birthday Brownies
Birthday brownies are almost like cake, but easier to make. Just bake your regular fudgy, chocolatey brownies and slather them with vanilla frosting and colorful sprinkles take the brownie game up a notch and add to the festivities.
8. Rice Krispie Treats
Oooey, gooey, chewy, and easy peasy to make – rice crispy treats are a great way to go for dessert. Made with just three ingredients, these are hard to mess up. But just in case, use these tips for perfect treats every time. Add in M&Ms for a crispy chocolatey twist or use colored rice krispies for a funfetti look.
9. Birthday Macarons
Sweet, chewy, a little bit sophisticated, but still fun and kid-friendly, and easy for little hands to hold, macarons are a unique alternative to a traditional birthday cake. And they come in fun flavors and colors that make choosing just one a difficult task! Whether you use a simple macaron recipe or buy them from a store, adults and kids alike will enjoy this upgraded birthday dessert.
10. Mini Pudding Cups
Mini pudding cups are kid-sized and easy to eat! Mix up a big batch and scoop into paper or plastic cups, top with dollops of whipped cream and generous amounts of sprinkles. You can even serve them in edible chocolate cups or sugar cones for an extra sweet treat!
11. Cookie Ice Cream Sandwiches
Cookies and ice cream might just be everyone's favorite combo. Use big, chunky cookies or bake your own, add a scoop of your favorite ice cream, and press together. Don't forget to let the cookies cool first or you will have a melting mess on your hands! Roll the sides in colorful sprinkles for the birthday touch.
12. Peanut Butter Cup Ice Cream Pie
Decadent, rich, and delicious – this five-ingredient, no-bake pie will have your guests running back to you with empty plates saying "more, please!"
13. Birthday Milk Shakes
Blend up a batch of delicious milkshake goodness with just 3 ingredients – milk, ice cream flavor of your choice, and syrup flavor of your choice.  You can even top them with whipped cream if you'd like. You can do classic vanilla, go chocolate-y, or customize the flavor however you'd like. Afterward, serve up the milkshakes in clear plastic cups with colorful straws.
Bonus idea: Add marshmallows and sprinkle with crushed graham crackers for a s'mores-themed birthday without the campfire!
14. Cookie Tower
Build it, and they will come….with cookies we mean! Pile'em, stack'em – however you present them, a tower of delicious cookies will be a hit with everyone. You can choose several different varieties and let the kids dip them in bowls of melted chocolate, sprinkles, and whipped cream like a cookie sundae bar!
15. Whoopie Pies
Ok, these are kind of like cake. But, what is cuter and easier to eat than handheld mini-cakes in multiple flavors? Whip up a batch and watch them disappear! Try traditional chocolate or Devil's Food, with vanilla filling, or you can mix it up with Red Velvet, chocolate on chocolate, or banana and peanut butter. Dust with powdered sugar, add a candle, and voila – Whoopie Pie Cakes!
Elevate Your Next Celebration With Dessert and Entertainment
Serve one of these 15 birthday treats instead of plain old cake at your next birthday party for a nontraditional twist on fun. Whatever option you choose, they are sure to be a hit!
You can add extra fun to your next birthday party or kids' celebration by renting an inflatable sports game, bounce house, or themed inflatable water slide. And if you are expecting a crowd, Jump City even has tables and chairs to help you accommodate all of your guests!
Contact us today to discover all the ways we can help make your next birthday bash a celebration to remember!