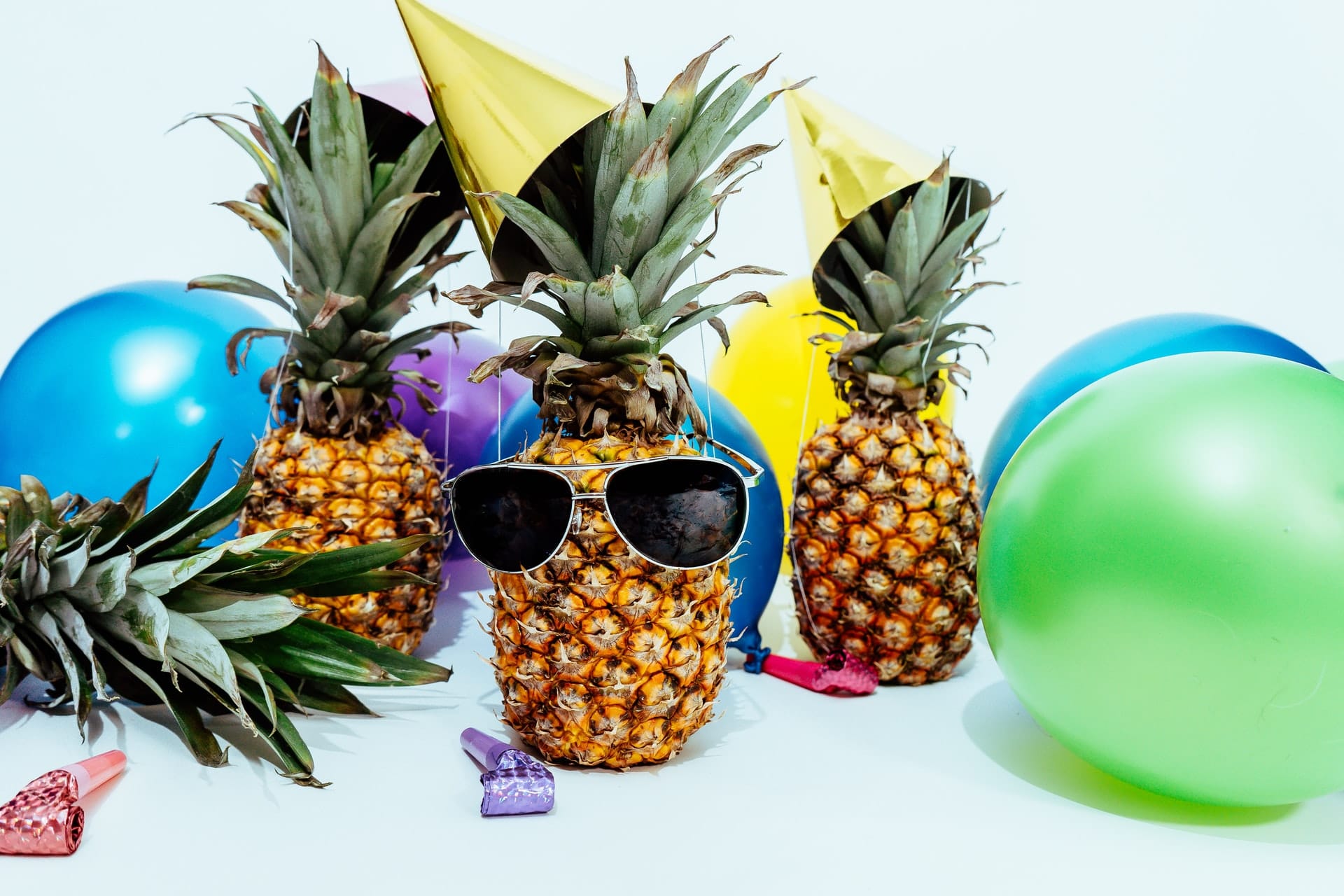 Nothing quite says summer like hanging out in the backyard having a barbecue and luckily this year, experts say it's likely ok to host a small outdoor party, especially if the adults are fully vaccinated and the kids wear masks if they are not vaccinated. So fire up the grill and read on to learn how to throw a safe summer party for your family and close friends. So, how exactly do you plan a family summer backyard party?
1. Pick a Fun Summer Theme 
First and foremost pick a fun summer theme! A great way to take your party to the next level is to pick a theme and decorate your backyard to match it. You could do a classic barbeque party or try something unique. For example, if you're hosting a tropical luau, you can put up some tiki torches, colorful flower garland, and faux palm trees. You can even rent an inflatable tiki bar or tropical water slide to bring an island vibe to your backyard.
Another fun theme for a summer party is a jungle safari. You can put up cute zebra, lion, or elephant lawn cutouts, jungle-themed banners, and cheetah print balloons. We even have a safari adventure bounce house to complement the rest of your decorations.
Here are a few other unique party theme ideas your family might love: 
Carnival 

Under the Sea 

Wild West 

Summer Olympics 
Looking for other ideas? Try one of these 8 unique summer party themes.
2. Keep the Food and Drinks Flowing
One of the keys to a successful summer backyard party is having plenty of food and drinks on hand. To keep everyone well-fed throughout the party, create a grazing table with non-perishable snacks like chips, pretzels, Chex mix, and crackers. If you really want to wow your family and friends, consider renting a popcorn machine so they can munch on fresh popcorn all night. 
For dinner, you can't go wrong with classic barbecue fares like burgers and hot dogs. They're always a hit with both adults and kids and can easily be adapted to special diets. If someone in your family is vegetarian or gluten-free, simply pick up some veggie patties or gluten-free buns at the store. Pair your burgers with healthy sides like corn on the cob, watermelon slices, coleslaw, and potato salad to round out the meal. 
After sitting out in the Texas heat for a few hours, your guests will probably be pretty thirsty. Keep them hydrated by setting out bottles of water, lemonade, sweet tea, fruit juices, and soda. If you don't have a cooler to keep your drinks chilled, you can fill up some water balloons and freeze them overnight. Take the balloons out of the freezer just before the party starts and put them in a large container like a bucket, empty planter, or even a kiddie pool. Then nestle the drinks between the balloons so they stay nice and cold. When the water balloons melt, your kids can have a blast throwing them at each other. 
3. Beat the Summer Heat 
Summer days in Texas are sweltering, which can make your guests feel sweaty and uncomfortable. To prevent them from overheating, set up a canopy or a few beach umbrellas to provide some much-needed shade. You can also hand out mini battery-operated fans during the party or handheld fans. Also, if you have time for a quick DIY project, make one of these refreshing facial mists so guests can spritz themselves anytime they need to cool down. 
Another way to beat the heat is to rent a snow cone machine and make your own combo of delicious, flavored snow cones. This sweet, icy treat will cool everyone off and double as a delicious dessert. If you have extra room in your party budget, you can even rent a water slide or bounce house to provide hours of family fun. Make sure you rent an inflatable that's safe for both kids and adults so everyone can enjoy it!
4. Banish Bugs
The last thing you want is for a swarm of bugs to crash your party and ruin a fun evening with family and friends. To prevent these uninvited guests from hanging around, put some citronella candles and potted herbs out on your patio. Lavender, mint, and rosemary are particularly good at warding off bugs. 
If you're planning to roast some marshmallows after the sun goes down, you can even add sage to the bonfire to keep pests away. Mosquitoes don't like wind, so it can also help to turn your patio fan on and set it to high. And if all else fails, keep some OFF spray on hand for guests and maybe a bug lamp to use if it gets too buggy. 
5. Entertain with Fun Party Games 
No backyard summer party would be complete without fun lawn games. If you don't own a cornhole board, croquet set, or sack bags you can create DIY party games using things you already have around the house. 
If you have an old shower liner or tarp, you can turn it into a giant tic tac toe grid using some masking tape. Then you can use cardboard and markers to create the X and O game pieces. Empty tin cans can also be transformed into a fun ball toss game. Simply stack the cans on top of each other and use a small rubber ball or baseball to knock them over. 
After the sun goes down, you can play an exciting game of glow-in-the-dark ring toss. All you need are a few glow sticks and glow necklaces. To set up the game, push the glow sticks into the dirt so they stand up on their own. Then take turns throwing the glow necklaces at the sticks to see who can score the most points.  
Now that your summer party is planned, time to have fun!
Now that the weather is warm and many adults are fully vaccinated, it's possible to host a small, COVID-safe outdoor gathering to make up for missing last summer. We hope that these party ideas inspire you to get outside with your closest family and friends and enjoy the summertime sunshine. Using this summer party guide, you and your friends and family can spend hours and hours of fun outside eating, relaxing, and cooling off.