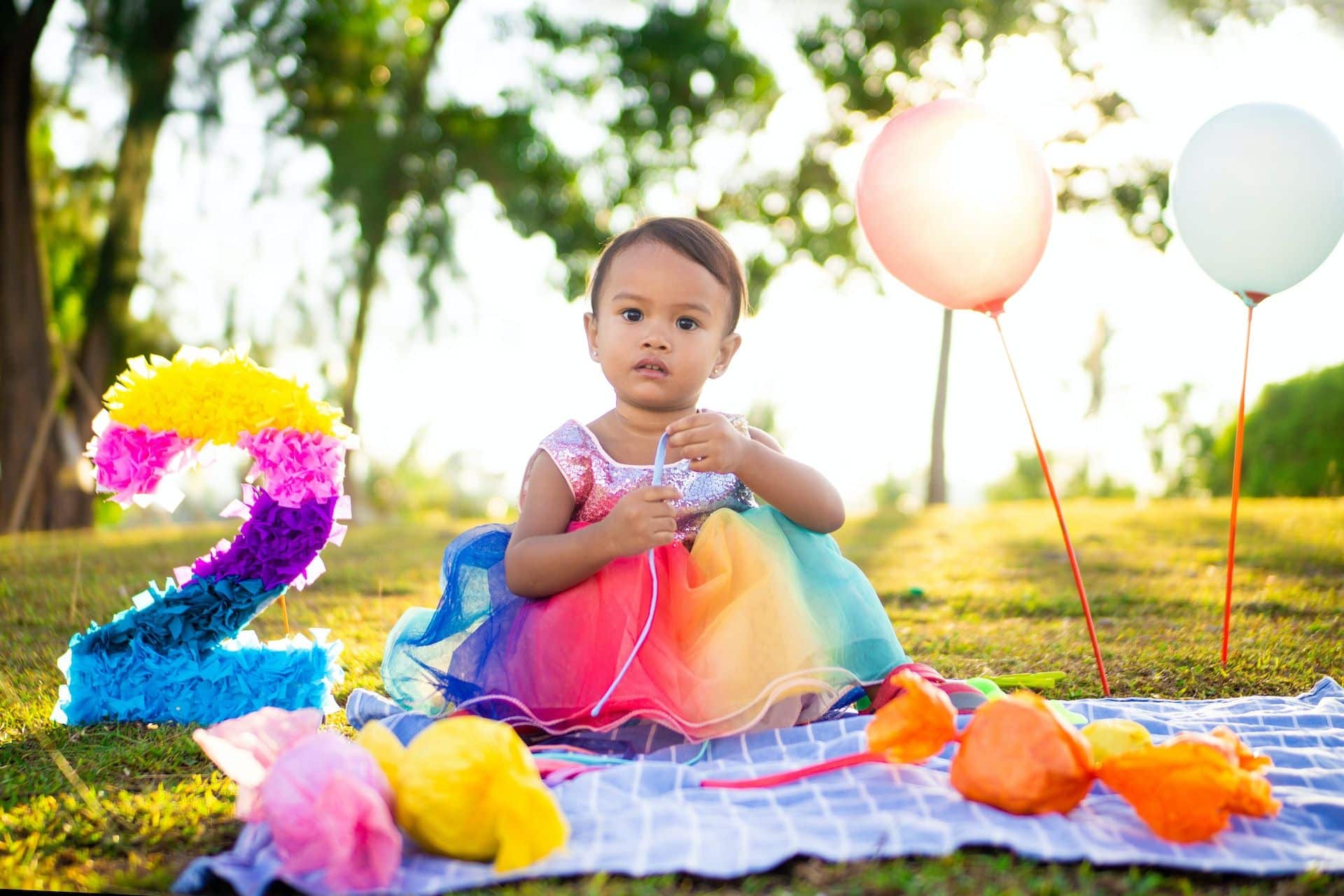 Parents know that planning a birthday party for little ones, especially toddlers, can be challenging.
Toddlers aren't exactly known for their long attention spans or for being the best at sharing. But with the right age-appropriate birthday activities for little ones aged 1 to 4, you'll be able to celebrate their birthday and keep the kids entertained.
If you're planning a birthday party in the Dallas/Lewisville area for your toddler (or soon-to-be toddler), pick a couple or a handful of these fun birthday party activities below to give you kids an entertaining party that even you, the parents, will enjoy.
1. Follow the Leader
Little kids love this simple, easy game. Have the children line up behind an adult, cue the party music, and have the adult lead the tots on a wonderland of adventure, weaving around the yard or the furniture in the house.
Consider using funny marches or ways to move to keep the little ones engaged like jumping, skipping, hopping, or freezing. Give each child a turn at being the leader and let them take charge by leading the adventure.
2. Duck Duck Goose
An oldie but goodie, toddlers never get tired of this classic birthday game.
Have the children sit in a circle. Choose one to go first and play the goose. That can be the birthday boy or girl. The goose then walks around the outside of the circle and taps each child on the head while saying "duck, duck, duck…" and then "goose!" when they've picked the person they want to chase them. The toddler they land on when they say "goose" gets up and chases the original goose around the circle and tries to catch them before the tagger get to the vacant spot in the circle. If the original goose is caught, they sit in the middle of the circle until there's one last person in. That remaining kid can be the tagger for the new game.
If your toddler is at the younger end of the toddler spectrum, they may just enjoy running around chasing each other.
3. Musical Statues
Musical statues is just like musical chairs but without the chairs!
Simply cue the music and tell the children to dance until the music stops. See if they can freeze in their position without falling over. Then, let the giggles begin.
You can play competitively and have kids move away if they move after the music stops or you can just play for fun and have kids pick out the songs to dance to.
4. Catch a Bubble
There is nothing more fascinating and fun than bubbles to a toddler. You can't go wrong with bubble games at a toddler's birthday party.
Give each child their own non-toxic bubble kit or be the bubble maker yourself and blow bubbles big and small while the tots try to catch them or pop them!
5. Balloon Toss
Toddlers love balloons almost as much as they love bubbles!
Blow up a few balloons and have the kids sit or stand in a circle or in two lines across from each other. Then hand them a balloon and have them toss it around the circle or across to the other line.
You can even toss a few balloons into the group of toddlers and just let them all try together to not let the balloons hit the floor. Once all the balloons have hit the floor, you can toss in a few more balloons and start the game all over again.
6. Sing-a-Long
Little ones love a good old-fashioned sing-a-long, even if they don't know all the words!
They can dance and clap along as you lead the way in song.
Choose easy-to-follow classics like "The Wheels on the Bus," "Itsy Bitsy Spider," "If You're Happy and You Know It," "Old MacDonald," "I'm a Little Teapot," or something newer and fun like "Hot Potato."
With just a few words and simple hand movements, little ones will be singing and dancing and learning some new words and movements along the way! Check out this Spotify playlist for your next little one's birthday party or discover more fun toddler song ideas here.
7. Bottom Shuffle
Kids love to run and toddlers are no different. But instead of having a running race, lest someone get hurt or something in your home get knocked over and broken, try the bottom shuffle.
Have the kids sit and then scoot on their bottoms across the room to the finish line. Try doing this on a smooth, flat surface to avoid carpet burn or snags.
8. Stick the Tail on the Donkey
You can purchase a pin the tail on the donkey set, or make your own.
All you need is a large piece of paper or poster board to draw the donkey on, some bandanas for blindfolds, and stickers (instead of tacks or pins) for the tail.
Tape the poster to a wall and then show the little ones how to play.
9. Run Under the Parachute
What child doesn't love a blanket fort? This is pretty much the same thing, but with a little bit of adult help. Have two adults or older children hold the "parachute" (a sheet or blanket will do if you don't have an actual parachute).
Move the "parachute" up while the toddlers run underneath and try to get to the other side before the "parachute" comes down on them.
As simple as it is, toddlers absolutely love this game, as evidenced by the squeals and giggles that will commence when the "parachute" lands on them!
10. Decorate a Party Hat
What's a birthday without a party hat?
Give each party goer a store-bought party hat or cut paper crowns out of construction paper or brown paper bags. Hand each tot a hat to decorate and wear during the party.
Using stickers and non-toxic markers, they can personalize their hat, then take home their art creation.
11. Group Mural or Art
Roll out a large sheet of paper or give each child a piece of paper of their own to decorate. Write each child's name on their section or sheet and have them decorate to their little heart's content.
If you choose stickers, crayons, and washable markers, you can avoid the mess that comes with painting. You can even give them cut or ripped up pieces of construction paper and tape or non-toxic glue that they can use to create their art project.
12. Birthday Storytime
What toddler doesn't love to hear a story? Choose a short picture book to keep them engaged or even lay a few books out for the kids to pick from and flip through. Even though kids can't read at this age, they can still enjoy flipping through the books and looking at the pictures. You can even read a few books aloud to them and show them the pictures before turning the page.
You can involve toddlers even more by asking them to share a short story they've made up or recall a book someone's read to them. Check out more screen-free activities here.
13. Animal Sounds
Toddlers love to mimic the things they see and hear so playing with pretend animals is a great activity for them and it'll even be fun for older kids.
Have the toddler in a group and tell them to pretend to be the animal that you say. You can have them roar like a lion, meow like a cat, bark like a dog, or trumpet like an elephant! They may even learn a new animal or two.
You can even make paper animal masks to help them get into the spirit or play a video with different in the background.
14. Dress Up
Little ones love to play dress up and pretend so make it into a fun game that'll even entertain adults.
Gather a pile of old clothes easy for toddlers to put on like hats, shoes, and scarves. Let them dive in and discover their inner diva or rock star. Old Halloween costumes also work well if you can gather a few to throw in the mix.
Make sure you take lots of pictures as you and the other parents will want to remember this fun time.
Bonus Birthday Party Ideas
Elevate your toddler's next birthday party, by renting a bounce house or inflatable sports game.
With so many to choose from, including castles, carousels, and popular characters like Winnie the Pooh, Tigger, Little Mermaid, Dora the Explorer, Disney's Pixar Cars, Spiderman, and more, you are bound to find a theme that will delight your little one.
For extra adventure, you can rent one of our dry slides or combo bounce houses, which feature slides, climbing structures, and tunnels. We even have a toddler-friendly-sized inflatable farm rental, which includes fun inflatable animals and it's the perfect place to sing "Old MacDonald!"
If you need extra tables and chairs, we even have you covered with an adjustable-height table, perfect for toddlers and little ones.
Contact us today to reserve your toddler birthday party essentials.
You might be interested in these related blog posts: