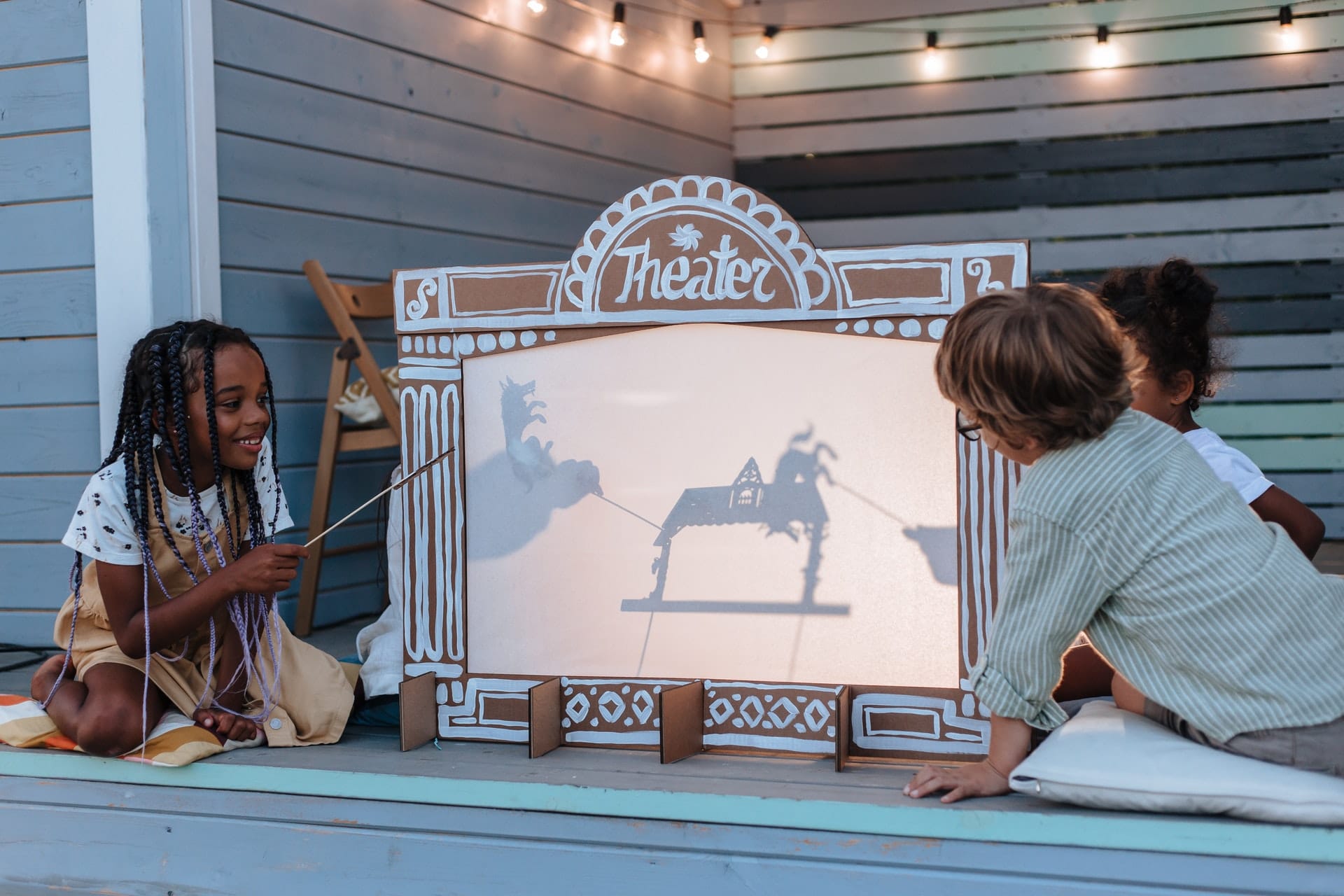 With the weather finally getting cool and kids set to be at home more, it's important to make efforts to carve out screen-free family time. During COVID-19, screens have become such a large and important part of all our lives that sometimes it overruns it's welcome and productive use. This fall and winter season, try out these 11 screen free activities that can get the whole family together for some fun quality time at the house. 
Treasure dig
For this fun DIY activity, just add small treasures and trinkets to brown sugar (or a bucket of sand) and let your kiddos "dig" through it to find the hidden treasures. You can even try using water for the main mix instead and freezing the mixture so the kids can try ice-picking and chip away to find the treasures. 
Camp out/camp in
Consider having a fun family camping "trip" in the backyard or even in your living room depending on the temperature or weather. Roast some marshmallows and make some s'mores over a small fire pit (or in the microwave), tell funny stories with a flashlight, take turns pointing out different "art" in the stars, play card games, or even try a nature scavenger hunt! Is it your first time camping outside in your backyard? Check out these 5 simple tips for your backyard campout.
Make some art
Set out creative tools of all types (pens, colored pencils, markers, paper etc.) depending on your kids age and abilities, and just let them have fun getting creative with their art. If they need some inspiration, give them some fun themes or rules to try such as "combine two animals together" or "you can only use each color once" or "only use your non-dominant hand." You can even join in on the fun and hang up everyone's masterpieces afterwards and enjoy your new family art museum. 
Chalk it up
The great thing about chalk is the endless creative possibilities of it! Grab a bucket of chalk and take the kids outside on the driveway, patio, or sidewalk and have them create fun games like hopscotch, or even create an obstacle course. Then, the whole family can take turns and see who gets through each the fastest.
Rent a bounce house or inflatable obstacle course
Speaking of obstacle courses, if you want the real deal consider renting an inflatable obstacle course or bounce house! Get your blood pumping and your muscles moving without even thinking about it by renting a bounce house or inflatable obstacle course for the whole family to enjoy! You'll have hours of fun bouncing and/or racing each other. It's not only fun for everyone – but it encourages exercise without thinking about it and it'll make your family forget all about those screens. 
Book club/story time
No matter what age your kids are, reading is beneficial and encourages them to get lost in a world of wonder. Depending on the age of your kids or time availability, consider encouraging your kids to either pick a book to read on their own and tell you about or pick a pick that all the kids can enjoy and sit and read it together. If your kids are old enough, consider switching back and forth between you and them reading the book aloud to each other. Consider these top story books for young readers.
Take a walk
Literally just go on a walk outside together and enjoy the fresh air. Maybe you'll decide to go to the corner store, walk to the local playground, or stop by the ice cream shop but no matter what, try to get the kids to take the time to really notice the nature around them. 
Play themed-games
You can pick a theme depending on the season or just make up a theme of your choice and take turns using different themes to put twists into classic games such as UFO hula hoop, pirate tag, candy-themed tic-tac-toe, outdoors hide-and-seek, animal dance party and so on! Consider themes like space, oceans, animals, candy & sweets, outdoors, and more! During the holiday season, play one of these top holiday games that'll surely have you make long lasting memories. 
Go through old objects and donate them
Yes, you can get your kids to try to clean and organize for fun AND teach them a valuable lesson. Consider having each kid go through their things (i.e. toys, clothes, shoes, etc.)  and really consider what they need and what they don't use anymore. Then, gather all the unwanted belongings and go together to donate them to a shelter or local charity together. You'll help others while getting your kids to clean up and appreciate their belongings. It's a win all around. 
Go on a picnic
Before the weather gets too chilly, consider going on a family picnic together. Together make and/or pack everyone's favorite snacks and treats and walk together to the nearest park or field. You can lay down a large blanket or sit together at the picnic table (if the park has it) and enjoy eating and talking about your plans for the upcoming season! Don't forget these 14 must-have picnic items!
Put on a show 
You don't have to go all the way to Broadway to find an entertaining show. Have your kids put together a show for the rest of the family! It can be a play, puppet show, sock puppet show, or really anything they come up with using their imagination. Turn "show night" up a notch and make it like a real show by deleting up chairs in the living room (or outside) and making some fresh popcorn with your own popcorn machine rental.
No matter what activities or games you and your family decide on, just be sure to enjoy the quality time together without screens. After all, appreciating family is what this season is all about (and this feeling can really be extended throughout the year). 
You may also like to read:
10 Fall-Themed Activities For Kids To Celebrate The Season Safely
7 Indoor and Outdoor Activities to Keep Your Kids Active at Home