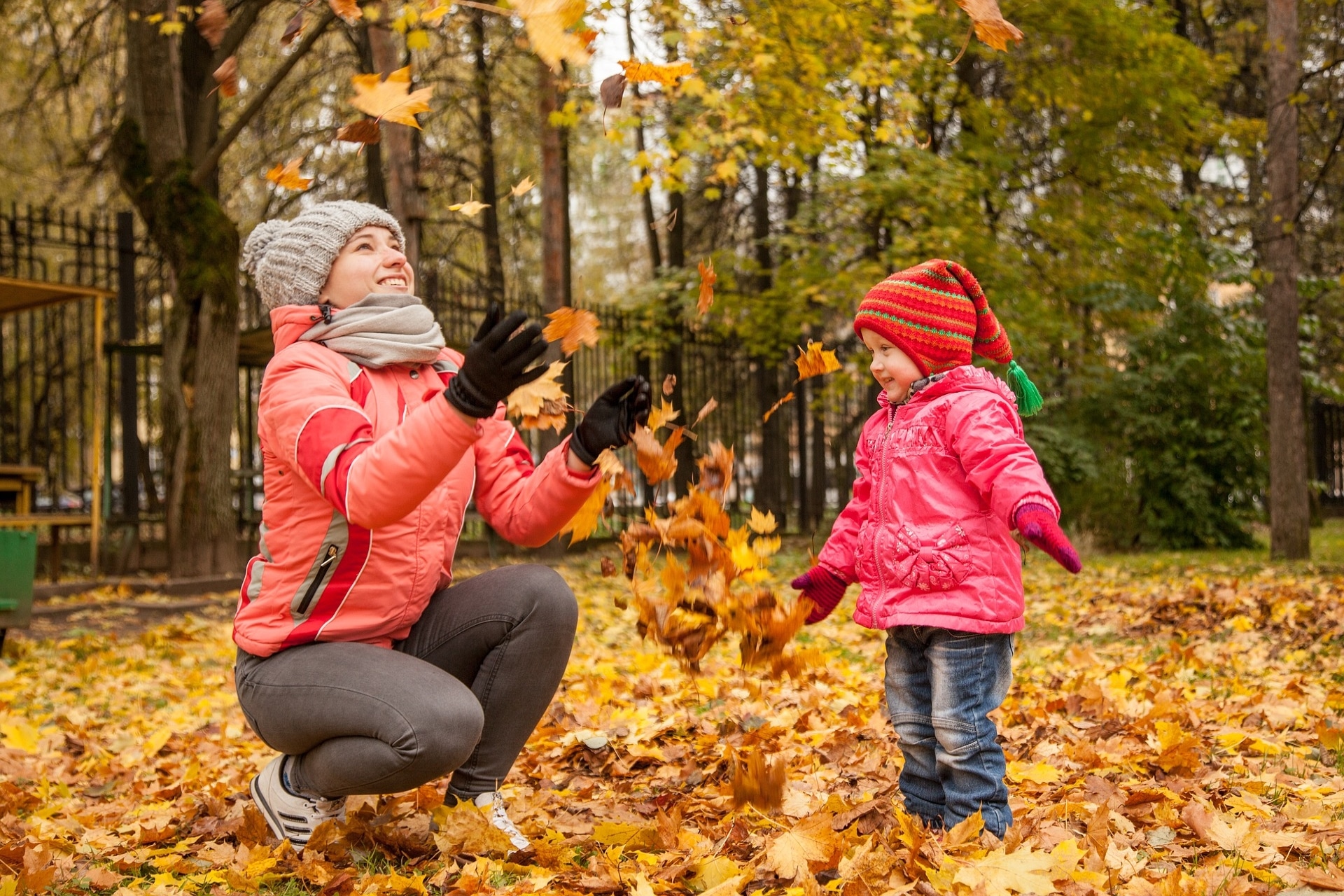 Although the weather is still too warm for it to feel like fall, you can get into the spirit of the season by doing fun autumn-themed activities with your kids. Children of all ages will love these festive crafts, games, and COVID-safe outings, so browse the list below to find your plans for next weekend!
1. Turn leftover apples into adorable fall-themed stamps
Don't know what to do with the leftover apples from your visit to the orchard? Turn them into stamps and let your kids use them to decorate canvases or plain white shirts. All you have to do is cut the apples in half and coat the middle of the apple in paint.
More of a visual learner? Click here for step-by-step instructions with pictures included.
2. Make festive pumpkin popcorn balls
This festive recipe uses orange food coloring, green laffy taffy, and pretzel rods to make an ordinary popcorn ball look like a pumpkin. These cute, delicious treats are ready in just 20 minutes! Check out the easy-to-follow step-by-step instructions.
If you're looking to take your popcorn to the next level, rent one of our popcorn machines.  It makes delicious, buttery popcorn that will take your treats to the next level!
3. Create a simple fall wreath
Your kids can make their own fall wreaths by collecting leaves from the backyard and gluing them to the rims of paper plates with the middle cut out. You can even add fall-colored tissue papers, cut out paper leaves, yarn string, or any colorful crafts you have on hand. When done decorating, cut two small holes at the top and tie some string through so they are ready to hang. Hang the finished wreaths on your front door, fridge, or anywhere else that needs a little autumn cheer!
Need some inspiration or more detailed instructions with pictures? Click here for instructions from an experienced mother.
4. Take a scenic drive
Take some time to appreciate the beautiful changing leaves by going on a scenic drive with your kids. Our favorite places to admire fall foliage are Dinosaur Valley State Park and Tyler State Park, which are both about 90 minutes away from Dallas.
5. Make spooky cotton candy monsters
Another fun, edible craft you can make with your kids is cotton candy monsters. First, whip up your family's favorite flavor of cotton candy. If you don't have your own cotton candy machine, you can rent one from us.
Next, grab a few chunks of cotton candy and shape them into the monster's body, horns, and nose. To finish off your spooky creation, add chocolate buttons and red licorice to make the eyes and mouth or get creative with the sweet treats you have around the house.
6. Make pinecone turkeys
Make use of all the pinecones that have fallen in your backyard with this adorable turkey craft. It uses felt, googly eyes, and hot glue to turn pinecones into turkey figurines that you can display on your Thanksgiving table. You can even swap out the paper feathers for actual feathers.
7. Go stargazing
Take advantage of the shorter days by going stargazing with your family. If you don't have a telescope, you can use binoculars or just observe the sky unaided. Don't forget to bring a star map and some hot chocolate to keep you warm!
8. Perform a fall-themed science experiment
Remember those baking soda volcanoes from middle school science class? You can perform the same experiment in a miniature pumpkin! There are experiments like this and simple,  fun ones you can still do with younger children that the older kids will enjoy too. It's a great way to get your kids in the fall spirit while teaching them STEM skills.
Ready to get learning, check out this list of fun fall-themed experiments.
9. Make ghosts out of fallen leaves
Fallen leaves become spooky ghosts when you paint them white and give them a ghoulish expression with a permanent marker. Want to get silly? Stick on some googly eyes instead or even string the leaves together to make a ghost line to use as decoration.
Need some inspiration? Check out these scary good leaf ghosts.
10. Play pumpkin golf
After your kids are done carving their pumpkins, they can keep the fun going by playing jack-o-lantern golf! Just make sure that each pumpkin's mouth is big enough for golf balls to roll into.
One of the best parts about fall is spending time with your family. We hope that these festive activities will help you bond with your kids and create some happy memories even if things do feel a bit different this year. Wishing your family a happy (and safe) fall season!