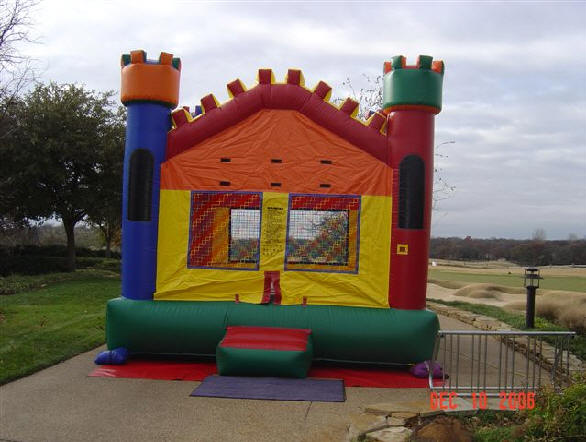 Bounce House Specifications:
Setup: Grass, Concrete
Space Required: 20′ x 20′
Outlet Required: 1 – 20 Amp
Weight Limit: 850 lbs
Safe for Children: Yes
Safe for Adults: No
Fire resistant: Yes
Lead free: Yes
Jump City's Multicolored Air Castles for Lords And Ladies, Princes and Princesses, Knights and Duchesses, Kings and Queens – a colorful Castle for everyone!
Strong colors brighten your children's bounce house party. Kids will have a grand time ruling and making friends in the Castles with 360-degrees of brilliant and joyful regal fun for all young royalty! This majestic bounce house is fit for any king or queen, or royalty of any kind. Colors include; blue, green, red, yellow and orange, along with four tall spires to make any palatial party a success. Jump City promotes healthy activity and safe jumping disguised as entertainment. It is so much fun to see their delight when guests see a bright happy classic castle. Call today to book your TX bounce house rental for a child you love! This bounce house will keep your children entertained for hours on end! This jump house is one product in a fantastic line of bright airy bounce castles delivered to Plano, Dallas, Frisco and a stadium full of other Texas Cities, like YOURS.
Rent This Bounce House!
Shots From Our Instagram