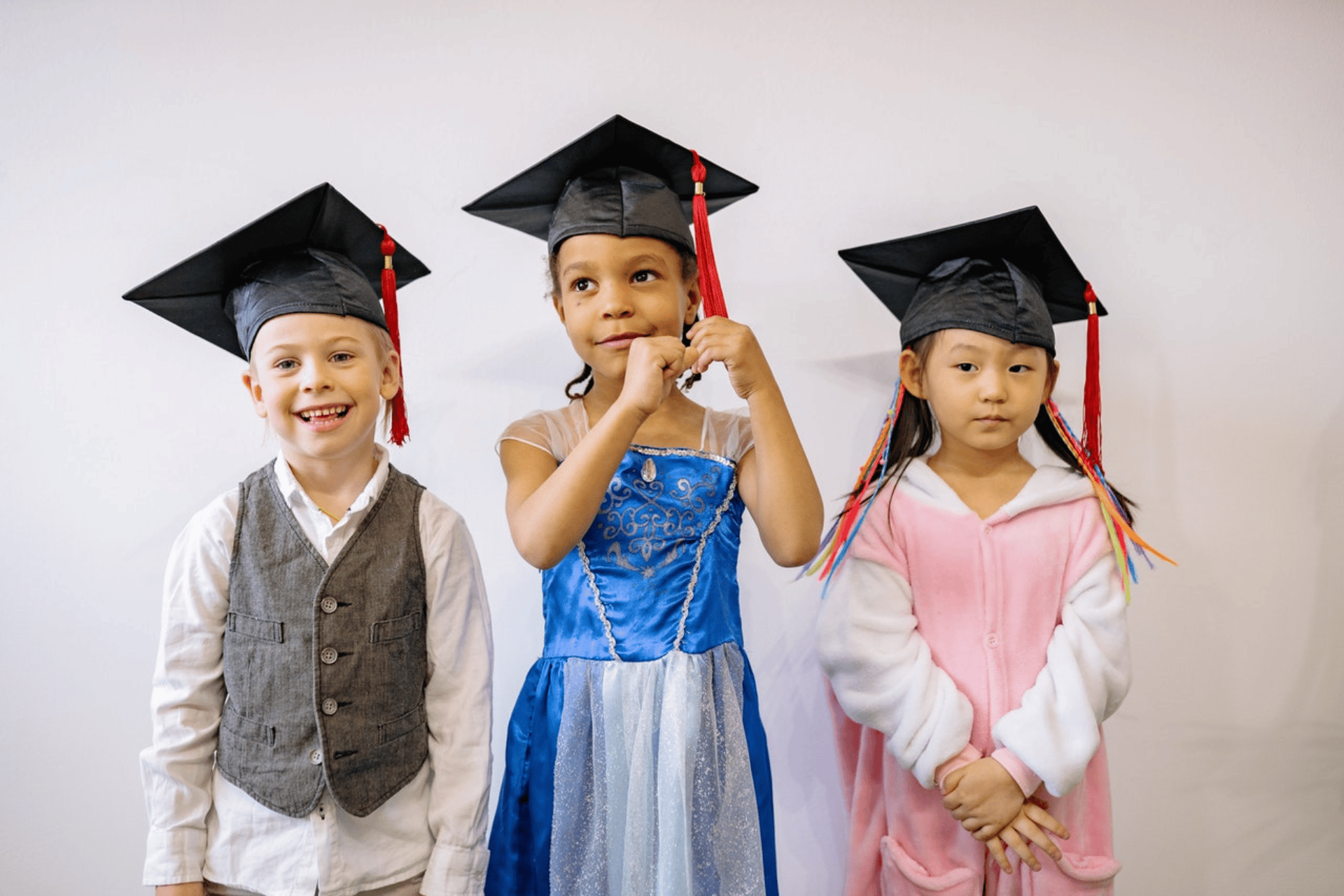 Graduation is a big milestone! Whether your child has reached the end of kindergarten, grade school, or high school, their academic achievements are worthy of celebration. Throwing a party is a great way to mark the occasion and recognize your graduate's hard work. Here are some tips to help you host a graduation party that your child and their guests will remember for years to come.
Pre-K and Kindergarten Graduation Party
Theme and Decorations
ABC Theme
Celebrate your child mastering the alphabet with a cute ABC theme! Decorate the party space with inflatable letter balloons, wooden alphabet blocks, cardboard letter cutouts, and chalkboards with the alphabet written on them.
Dr. Seuss Theme
The iconic Dr. Seuss book Oh, The Places You'll Go! makes a great theme for a kindergarten graduation party. These free printable signs feature quotes from the book and can be framed to create affordable party decor. You can also purchase premade decorations inspired by the story such as centerpieces, tablecloths, garland, and hot air balloon lanterns.
Activities
Craft Station
A craft station will keep your kiddo and their friends occupied during the party and give them special works of art to take home. Set out a variety of craft supplies such as construction paper, crayons, yarn, pipe cleaners, and pom poms so guests can express their creativity.
Bounce House
If you want to make your child's party extra memorable, consider renting a bounce house that they can jump around in with their friends. We have a wide variety of themed bounce houses you can rent for the day, such as a dream air castle, monster truck bounce house, safari adventure club, and unicorn bounce house. We also have inflatables featuring popular characters like the Little Mermaid and Spider-Man.
Food
Finger Foods
Little ones can be picky eaters, so it's best to keep your menu simple. Finger foods like turkey or ham sandwiches cut into quarters, small bags of chips, mini pizzas, and chicken nuggets are all good choices.
Handheld Desserts
For dessert, you can't go wrong with cookies or cupcakes, which are easy for kids to eat because they don't require utensils. To make your desserts extra festive, use cookie cutters in the shape of diplomas and top the cupcakes with mini graduation caps made of chocolate squares and peanut butter cups.
Elementary School Graduation Party
Theme and Decorations
Shining Star Theme
Let your child know how special they are with a shining star theme! Blow up some 3D star balloons, hang star streamers, and decorate each table with a star-studded runner. You can even print out an adorable "You're a star!" poster and display it in a frame next to a photo of the graduate for a personal touch.
Growing Garden Theme
Your child has grown and matured so much since the start of elementary school! Celebrate all of their progress with a garden-themed graduation party.
You can use live plants as table centerpieces and string together fresh or faux flowers to create colorful hanging garlands. Decorate the tables with fun artificial grass runners and blow up some floral balloons to round out the decor.
Activities
Lawn Games
If you're hosting your child's graduation party outside, set up some fun lawn games for guests to play throughout the party such as horseshoes, cornhole, and giant Jenga. You can also plan fun outdoor group activities like capture the flag, limbo, sack races, and freeze dance.
Bingo
Kids love playing bingo and seeing their boards fill up as the numbers are called, especially if prizes are involved! To set up the game, print out these free bingo boards and calling cards and decide what kind of space markers to use. Candies like Hershey's kisses and M&M's work well and can be eaten after the game is over as an added bonus. Don't forget to pick out a few small prizes for the winners like coloring books and packs of stickers.
Food
Cookout
Adults and kids alike will enjoy brats, hamburgers, and ribs hot off the grill. To complete your cookout, whip up some classic BBQ sides like baked beans, macaroni salad, corn on the cob, and coleslaw.
Candy Bar
A candy bar is an easy dessert option your grad and their friends will love. All you have to do is pick up an assortment of sweets at the store and display them in glass candy dispensers. Label each type of candy with cute graduation-themed signs, which call tootsie rolls "honor rolls" and ring pops "class rings." Don't forget to provide guests with plastic goodie bags so they can take home some of their favorite treats!
Middle School Graduation Party
Theme and Decorations
Summer Vacation Theme
Your graduate is probably pretty excited about summer break, so a vacation themed party will be a big hit! Consider hosting the celebration outside to take advantage of the warm, sunny weather.
Jazz up your backyard with beach balls, strings of lights, inflatable palm trees, and tropical garland. Hang some signs with cute sayings like "chill out grad it's summer" and "my future's so bright I need shades" to complete the decor.
Emoji Theme
Emoji-themed graduation parties are all the rage this year. Your teen will love decorations like these emoji grad balloons, winking face paper plates, smiley face garland, and #done banner.
Activities
Tie Dye T-Shirts
This helpful video shows you how to set up a mess-free tie dye station where guests can create their own colorful T-shirts. All you need are some plain white tees, a tie dye kit, a sturdy table, a jug of water, buckets to dye in, and a plastic tablecloth to prevent spills.
Water Slide
There's no better way to beat the Texas heat than renting a water slide! Your child will have a blast racing down our 16 foot wave water slide or dual lane slip and slide with friends. We handle all the setup and cleanup so you have one less thing to worry about on the day of the party.
Food
Pizza Party
Ordering a few large pizzas is a great way to feed a crowd without spending hours in the kitchen. Serve the pizzas with a simple garden salad and a few loaves of garlic bread for a complete meal.
Snow Cone Station
Another way to help your guests cool off is to serve snow cones for dessert. Renting one of our snow cone machines makes it easy to create sweet shaved ice treats. All you have to do is plug in the machine, pour a scoop of ice into the funnel, and press a button to get shaved ice that's the perfect consistency.
Our machine rentals include seven different flavored syrups, 50 shaved ice cups, and a banquet table, so you'll have everything you need to set up your snow cone station.
High School Graduation Party
Theme and Decorations
Fiesta Theme
Fiesta graduation parties are trending this year. To pull off this theme, hang up some fiesta fringe garland, taco and cacti balloons, and cute signs like this "nacho average grad" poster and "taco bout a graduation" banner.
College Theme
If your child is going to college next year and knows which school they're headed to, incorporate the university's colors into the decorations.
For example, if your child is attending Texas A&M, deck out the party space with maroon and white centerpieces, streamers, and balloons. For an extra festive look, incorporate some party supplies that feature the university's logo, like a tablecloth, banner, and pack of paper plates and napkins.
Activities
Photo Booth
If your teen enjoys taking selfies, they'll love having a photo booth at their party. Photo booth rentals can be expensive, but luckily you can set up a DIY version without breaking the bank.
You can purchase photo backdrops and fun photo props online. Since everyone has a smartphone these days, you don't have to provide guests with a camera unless you want to hire a professional photographer. Consider having a few selfie sticks or phone tripods on hand to make it easier for guests to take group photos.
Karaoke
Karaoke is another fun, inexpensive graduation party activity. You can either rent a karaoke machine or find popular karaoke songs on YouTube and play them through a wireless speaker. Your grad is sure to have a great time belting classic graduation songs like "The Climb" and "I Hope You Dance" with friends and family on their special day!
Food
Taco Bar
You can't have a fiesta-themed party without a taco bar! Serve your favorite taco meat such as seasoned ground beef out of a crockpot or chafing dish. Heat up corn or flour tortillas and place them in a tortilla warmer to keep them toasty. Then cut up your favorite toppings such as lettuce, avocado, tomatoes, and jalapenos and place them in bowls with tongs so guests can customize their tacos.
Smart Cookie Dessert Bar
Let your child know what a smart cookie they are with a cookie dessert bar! Print out this "one smart cookie" sign and display it on the dessert table. Then lay out a selection of homemade or store-bought cookies such as chocolate chip, oatmeal raisin, and shortbread on serving platters.
No Matter What The Occasion, Jump City is Here For All Your Party Needs!
Throwing a graduation party is a great way to celebrate your child's accomplishments as they move onto the next exciting stage of their life. If you're hosting a big crowd of family and friends, you may need extra seating to accommodate everyone. We offer table and chair rentals for both kids and adults at an affordable price.
Contact us today to learn more about how our rentals can help make your child's graduation party extra special.