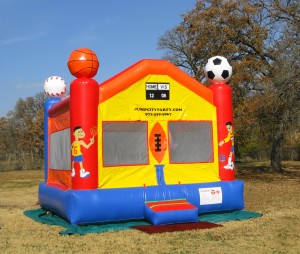 Bounce House Specifications:
Setup: Grass, Concrete
Space Required: 20′ x 20′
Outlet Required: 1 – 20 Amp
Weight Limit: 850 lbs
Safe for Children: Yes
Safe for Adults: No
Fire resistant: Yes
Lead free: Yes
Jump City's Sports Arena Bounce House
Jump City's Sports Arena bounce house offers it all: a football, basketball, soccer, and baseball theme to score points with any novice player or sports fan. Ideal for sporting events, sport camps or after the big game, this bounce house will keep players entertained for hours on end. The bounce house features a three-dimensional basketball, football, baseball and soccor ball – one atop each tower, and a fun scoreboard. Bounce house is one product in a fantastic line of sports-related bounce houses delivered to Plano, Dallas, Frisco and a stadium full of other Texas Cities, like YOURS.
Rent This Bounce House!