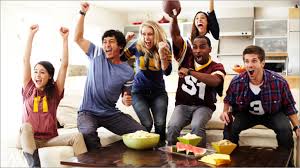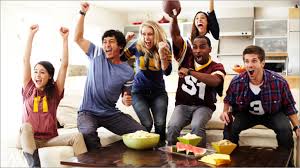 With this year's football season coming to an end, what better way to celebrate another great season than throwing your very own Super Bowl party. For most Americans, the Super Bowl is the biggest sporting event of the year. Two of the best teams will battle it out on one night to become the ultimate supreme NFL team. Super Bowl 50 will be held Sunday, February 7th at 5:30pm Central Time. Since there are just a few weeks until the big game, we wanted to share some simple ideas and tidbits to help your Super Bowl party be the one everyone talks about.
1. Plan accordingly
Since the big game will be held at 5:30 p.m., it's probably a good idea to have everyone over an hour or two before the game. Make sure that the TV and living room space is comfortably set up for you and your guests. It's tempting to want to have everyone over, but be practical on how much space you have. List out those you want to have over and send out those invites as early as possible, leaving room for you to have a menu and accurate amounts of food for the big day. Tip: Send out your invites now.
2. Show that football spirit
Yes, like all North Texans it breaks our hearts to see our beloved Dallas Cowboys yet again fall short and not be in contingency for the championship. However, it doesn't mean you can't show some team spirit. Decorate you house with some Super Bowl décor. What is that saying? Everything is bigger in Texas! So why not go big on one of the biggest days of the year. Dust off those jerseys; bring in some of the colors that reflect the two teams that will be playing. Have fun with it. If you don't want to spend much money on décor, stores like the Dollar Store have affordable decorations that wont break the bank.
3. Don't let your friends get "Hangry"
Nothing is worse than having your guests feel uncomfortable especially on an empty stomach. With sports fanatics you need to make sure you have plenty of food for the game particularly if the game turns sour. Plan out some simple appetizers for the night. Always have your table filled and restocked throughout the evening. More is better than none. We recommend scoping out Pinterest for some simple and affordable snacks. If you want to stock your fridge with a variety of beers for your company, go for it. Also, you could always have your guest do a BYOB (bring your own beverage). No shame in that especially if you want to keep cost down.
4. Lay it all out
Think about who is coming and where you want to place everything. Clean a few days ahead, maybe hire a maid if it's been awhile or ask your significant other / roommates to help you clean up. Re-arrange the furniture so that everyone will have a good view of the TV, a place to set their plate, and room to move around
You might have kids or friends with kids coming over, have something for them to do. Set up a corner for the kiddos where you could have some games or coloring activities for them to keep them busy. Be creative!. If the weather permits it have them play outside before the game starts. Rent an affordable bounce house from places like Dallas Jump Houses that can deliver and have it all set up for you. Plus, this might help burn some of their endless energy and provide fewer interruptions for the game.
5. All's well that ends well
All good things must come to end. With the clock running down and a winning team imminent, it's good to have a game plan when it is time to wrangle up those guests and send them out the door. Be polite and make hints that it's time to say goodbye. A good way in doing that is to start cleaning up plates or the kitchen. Also, if you do so you might get some friends helping out leaving you with less pick up. If you have some attendees that had a little too much to drink, make sure they have an acceptable ride home like a friend, taxi, or Uber/Lyft. In all good fun, safety should be considered. Remember, the Super Bowl comes once a year, so good luck and hope you score that winning touchdown of a party everyone will talk about!