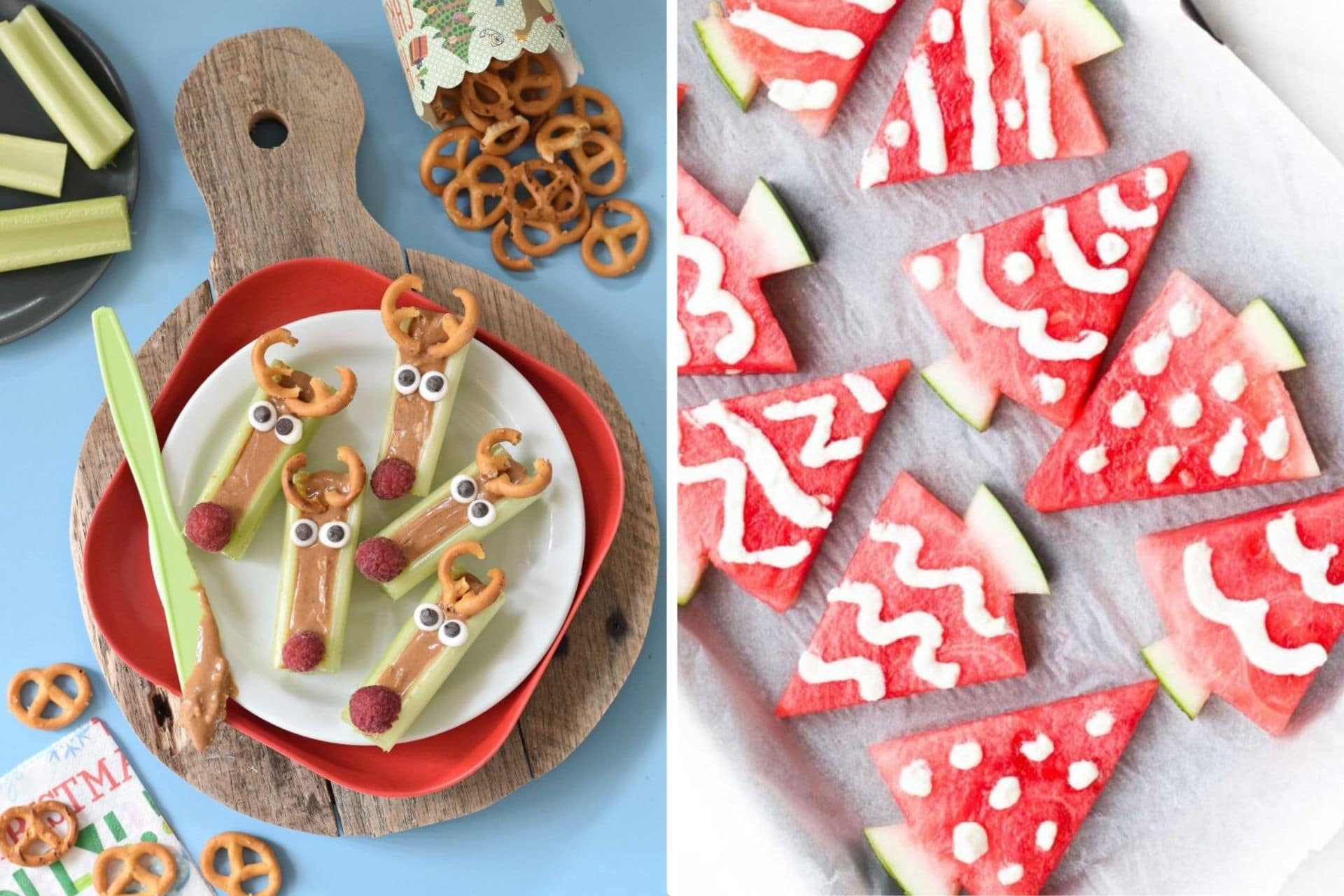 Now that the weather is getting colder, your kids are probably spending their days indoors and looking for fun ways to keep themselves occupied. Why not take this opportunity to spend some quality time in the kitchen together? The ten snacks below all have a festive twist and are easy enough for children to prepare. From fruit candy canes to popcorn snowballs, your kids will have a blast making and eating these delicious treats with you.
1. Strawberry and Banana Candy Canes
This adorable fruit snack looks just like a candy cane, but is much more nutritious! To make it, simply cut strawberries and bananas into rounds. Then arrange them in a candy cane shape, making sure to alternate the strawberry and banana slices to mimic the red and white pattern on real candy canes.
For a fun savory twist, you can even replace the fruit with cherry tomato and mozzarella slices.
2. Popcorn Snowballs
If you're tired of Christmas cookies but want something sweet, these popcorn snowballs from Life Made Simple are a great alternative.
To make them, melt marshmallows and butter in a pan and pour the mixture over a fresh batch of popcorn. Then add in your favorite toppings like red and green sprinkles, form the popcorn into balls, and let them cool completely before digging in!
If you don't own a popcorn maker, you can still make this treat by renting one from us.
3. Santa's Belly Cheese Snack
Your kids will love making (and eating) these Santa's belly cheese snacks! First, gather your materials—all you'll need is some yellow and black construction paper, scissors, glue or tape, and some red wax coated Babybel cheese.
Help your kids cut the black construction paper into thin strips to form Santa's belt and glue or tape them to the Babybel cheese rounds. Then cut the yellow construction paper into belt buckles and secure them to the center of the belts to finish off your festive snacks.
4. Mini Bagel Ornaments
These mini bagel ornaments are so cute you won't want to eat them! To make them, cut a few mini bagels in half and slather them with cream cheese. To form the ornament hooks, attach a cucumber slice to the top of each bagel using a toothpick. Finally, chop a variety of veggies into matchsticks and lay them out on a plate so your kids can decorate their bagel ornaments.
5. French Toast Mittens
Warming cinnamon sugar french toast is the perfect breakfast or snack for cold winter days. Make it extra festive by cutting the bread into mitten shapes using a metal cookie cutter. If you have other holiday-themed cookie cutters, such as Santa, reindeer, snowman, etc. feel free to try them out too.
6. Oreo Snowmen
You can turn Oreo cookies into adorable snowmen by covering them in melted white chocolate and topping them with candy. We like to use chocolate chips for the eyes and mouth and orange M&Ms for the nose, but you can get creative and add whatever toppings you have on hand.
7. Watermelon Christmas Trees
If you're on the hunt for a healthy, wholesome snack to feed your family this holiday season, look no further than these watermelon Christmas trees!
To make them, cut the watermelon into triangles, keeping the rinds attached. Then form the bases of the trees by cutting the rinds into three sections and removing the outer two-thirds. Garnish the trees with Greek yogurt and nutritious toppings like cranberries and pistachios, then freeze until the yogurt is set.
8. Peanut Butter and Celery Reindeer
Having trouble getting your kids to enjoy healthy snacks like peanut butter and celery sticks? Try turning them into Santa's reindeer to entice your kids to eat them!
All you have to do is slather the celery with peanut butter and add two pretzel halves to the top of the sticks to form the antlers. Then attach some edible googly eyes and put a raspberry at the bottom of each celery stick to create a nose. For the full recipe, click here.
9. Cornflake Christmas Wreaths
These cornflake Christmas wreaths are the perfect snack to make with your kids because they come together in under half an hour and only require a few simple ingredients. To get the full instructions, visit Tastes Better From Scratch.
10. Grinch Fruit Kabobs
If your family has been indulging in too many Christmas cookies lately, these nutritious and festive Grinch fruit kabobs will help balance things out.
All you'll need to make them is a banana, a few strawberries, green grapes, and a bag of mini marshmallows. First, slice up a banana into rounds and remove the tops from the strawberries. Then grab a toothpick and slide on one mini marshmallow, one strawberry, a banana slice, and a green grape.
The holidays are a great opportunity to spend more time in the kitchen with your kids, making memories and eating delicious treats. We hope you enjoy these festive snacks and have a wonderful Christmas season.