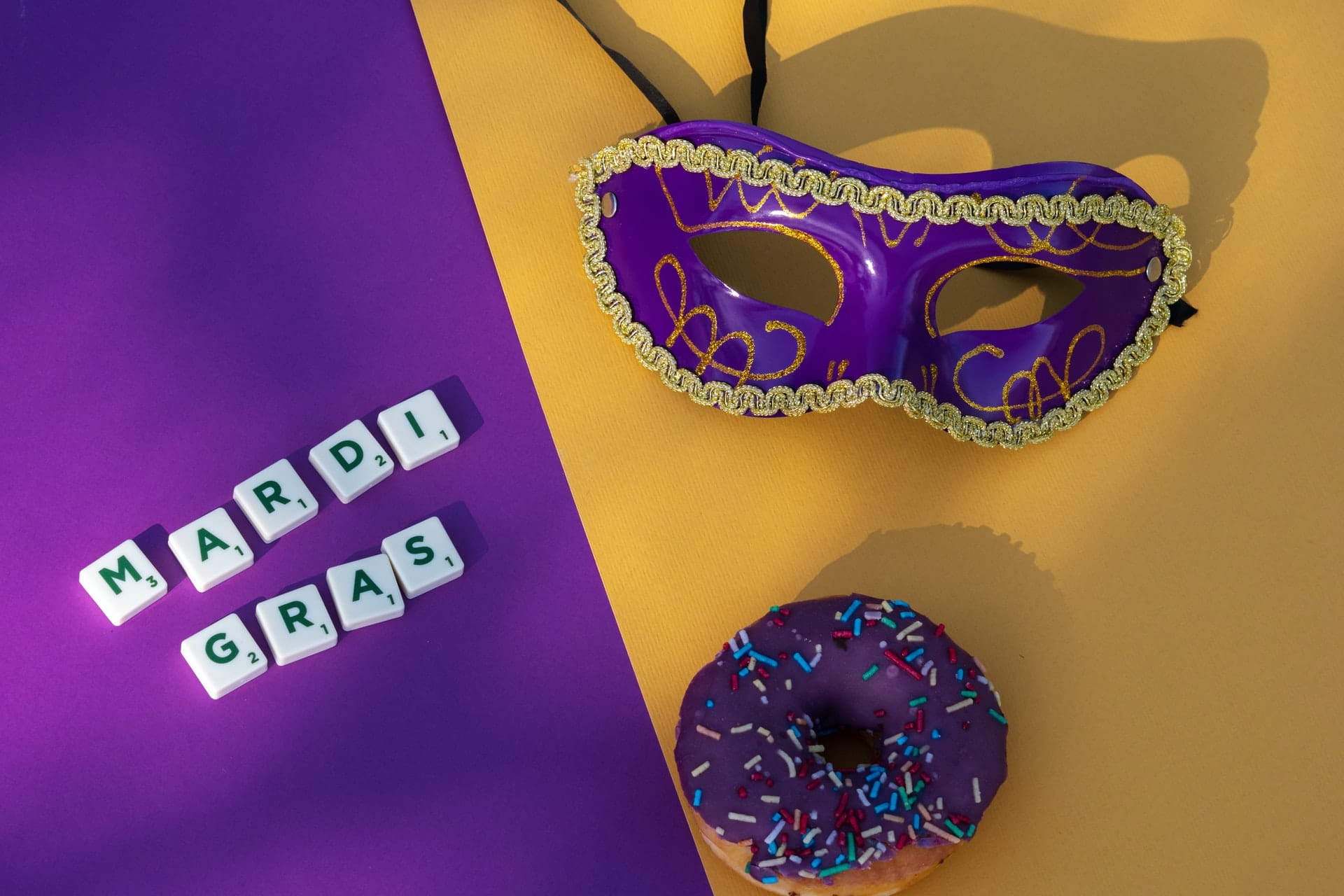 New Orleans hosts an amazing Mardi Gras celebration every year complete with food, music, and parades. However, you don't have to travel to Louisiana to have some festive fun with your family. Here are ten ways to celebrate the upcoming holiday in your own home or backyard that are fun for the whole family and kid-friendly.
1. Get Dressed Up
Dressing up in festive attire is a great way to get your family in the Mardi Gras spirit. Gold, green, and purple are the most popular colors for Shrove Tuesday, so make sure to incorporate them into your outfits.
You can pick up some Mardi Gras themed accessories like hats, beaded necklaces, and Venetian masks at a party supplies store. Or for a more affordable option, wear green or purple clothing from your closet and make your own Mardi Gras masks.
2. Make Mini Parade Floats
If there aren't any Mardi Gras parades in your area, you can have your own celebration at home by making mini parade floats! This simple tutorial from Craftiments uses the bottom of a shoe box covered in colorful construction paper to create a festive miniature float.
Your kids can decorate their floats with streamers, ribbons, feathers, fake flowers, beads, Mardi Gras flags, and other craft supplies. Once they've put the finishing touches on their creations, show them off by carrying them around the house while marching to upbeat Mardi Gras music.
3. Bake a King Cake
Start a new family tradition this Mardi Gras by baking a king cake with your kids. This king cake recipe from Taste of Home is easy to make and delicious thanks to the addition of lemon zest and nutmeg. Once the cake comes out of the oven, your kids can help you decorate it with icing and green, gold, and purple sparkling sugar.
4. Decorate Mardi Gras Masks
Party goers usually wear elaborate Venetian masks at Mardi Gras celebrations. Your kids can join in on the fun by making their own masks out of paper plates.
Start by cutting a paper plate in half. Hold the plate up to your child's face and mark where the holes for their eyes and nose should go with a pencil. Then use a pair of scissors to carefully cut out the holes. Finally, attach a straw or dowel to the side of the plate using tape so your child has a way to carry the mask.
Your kids can decorate their Venetian masks with things like feathers, paint, sequins, glitter, and stickers.
5. Make Mardi Gras Noisemakers
No Mardi Gras celebration is complete without noisemakers! Although you can buy noisemakers from a party supply store, making them is an easy and fun project.
Simply fill a paper plate with rice and a few small metal bells and fold it in half. Secure the paper plate with several staples so the rice doesn't fall out. Then let your child customize their noisemaker however they'd like with paint and other craft supplies. Once the noisemaker is dry, you and your kids can shake it around and have a fun Mardi Gras dance party.
6. Play Mardi Gras Musical Chairs
Kids of all ages love musical chairs! You can make this classic game extra festive by dancing to some fun Mardi Gras tunes while you play.
7. Have a Mini Carnival in Your Backyard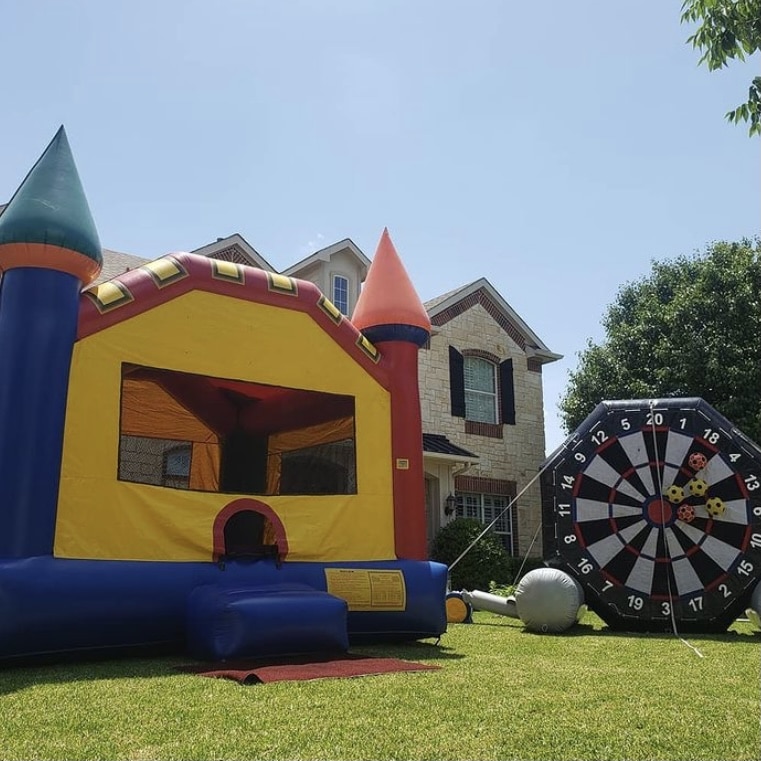 Carnival is a weeks-long celebration leading up to Mardi Gras with lots of dancing, delicious food, and parties. To join in on the festivities, why not throw a mini carnival in your own backyard?
For entertainment, you can set up a fun DIY bowling alley using large soda bottles as pins and softballs as bowling balls. Your kids may also enjoy playing classic lawn games such as cornhole, horseshoes, croquet, and bocce ball.
You can even rent some of our large inflatable sports games to make your family's carnival extra special. We have a wide variety of games to choose from including inflatable golf, baseball, basketball, and soccer darts.
No carnival is complete without concessions! Our popcorn machine is a healthy, delicious snack option. However, if you prefer sweet treats, we also have cotton candy and snow cone machines—just give us a call to reserve one.
8. Complete a Mardi Gras Coloring Page
If your kids like to draw, they may enjoy completing a Mardi Gras themed coloring page. The Spruce has lots of free printable coloring sheets featuring Mardi Gras beads, Venetian masks, king cake, and jesters. Some of them can even be colored online with virtual crayons so your kids don't have to get out their art supplies and make a mess.
9. Your Family to Mardi Gras Trivia
Playing a game of trivia is a great way to teach your kids about the fascinating history of Mardi Gras. You can come up with the trivia questions yourself or pick some out online (this article from Parade has dozens of great questions).
Once you're ready to begin the game, pick someone in your family to be the trivia host and split everyone else up into two teams. The team that answers the most questions correctly wins bragging rights!
10. Cook a New Orleans Inspired Meal
Mardi Gras is a perfect opportunity to introduce your family to the culture and cuisine of New Orleans. You and your kids can cook up some Creole favorites together such as gumbo, jambalaya, and red beans and rice. If your kids don't like spicy food, you can easily tone down the heat of these dishes by using less seasoning.
Happy Mardi Gras!
You don't have to hop on a plane to celebrate Mardi Gras to the fullest. As long as you spend some quality time with your family, this Shrove Tuesday will be one to remember!