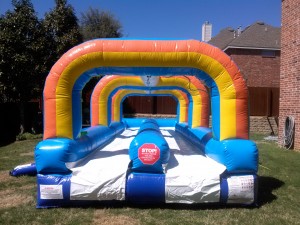 Bounce House Specifications:
Setup: Grass, Concrete
Space Required: 25′ x 45′
Outlet Required: 1 – 20 Amp
Weight Limit: 175 lbs per rider
Safe for Children: Yes
Safe for Adults: No
Fire resistant: Yes
Lead free: Yes
Double Lane Water Slip n Slide
Inflatable Water Slide when kids want to enjoy a classic! Jump City's Double Lane slip n slide has 2 full lanes adding a competitive component to this water slide rental. The second or dual lane on this slip n slide also allows for double the throughput at events, or birthday party rentals for children of all ages. The line for this refreshing party water slide rentals will move fast. Everyone will have MANY turns sliding down this slip N slide.
Rent this water slide!