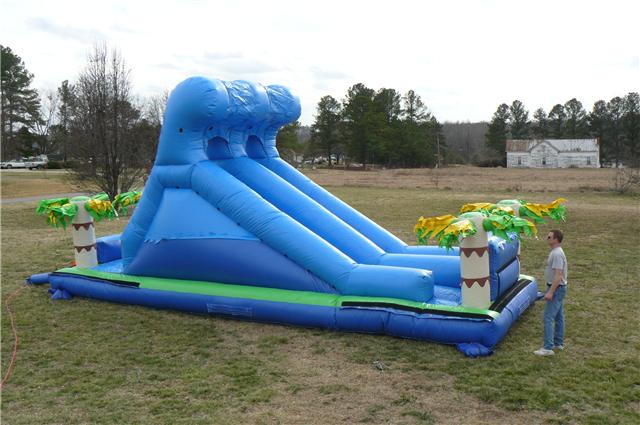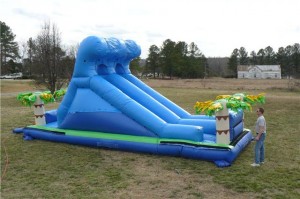 Bounce House Specifications:
Setup: Grass, Concrete
Space Required: 25′ x 40′
Outlet Required: 1 – 20 Amp
Weight Limit: 150 lbs per rider
Safe for Children: Yes
Safe for Adults: No
Fire resistant: Yes
Lead free: Yes
16 Foot Wave Water Slide
Once your guests SEA this magnificent 16 Foot Wave Water Slide, they'll be jumping in line to be next to slide. This refreshing and fun Wave Water Slide is perfect for those hot North Texas summer days. This inflatable water slide brings joy and sunny dispositions to events with its large bright blue "wave" and tropical trees along each corner. The kids can pretend they are surfing or swimming through beach waves while being safe right on land. This inflatable Wave Water Slide is most popular with the following events (but works great for almost any event):
Pool parties

Sea / pirate-themed events

Summer celebrations / holidays

Tropical-themed parties

Festivals
Rent this water slide!