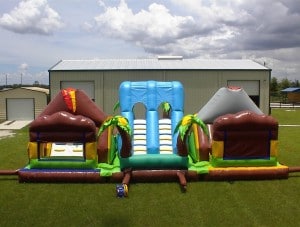 Bounce House Specifications:
Setup: Grass, Concrete
Space Required: 35′ x 45′
Outlet Required: 3 – 20 Amp
Weight Limit: 175 lbs per rider
Safe for Children: Yes
Safe for Adults: No
Fire resistant: Yes
Lead free: Yes
Amazon Extreme Obstacle Course
This Amazon Extreme Obstacle Course – Wet or Dry 360 degree competitive fun, is a dual lane 16 ft. high slide. Obstacle Course is meant to have 2 players race thru to a winner, or entertain children without a competitive edge, but always with a buddy. Handles kid's from 6 to 40 (based on health to older, or younger) Plano, Frisco, Dallas Fun fun fun! Colorful combination dry or wet, with many twists and turns, ups, downs, arounds and through obstacles! Will take your Children's party to adventurous places while in a fun safe unit. This Amazon Extreme Obstacle Course is capable of handling many happy kid's. Delivery area is extensive includes Dallas, Plano, and Frisco, this Amazon Extreme Obstacle Course makes stops in most of DFW.
Rent this inflatable obstacle course!