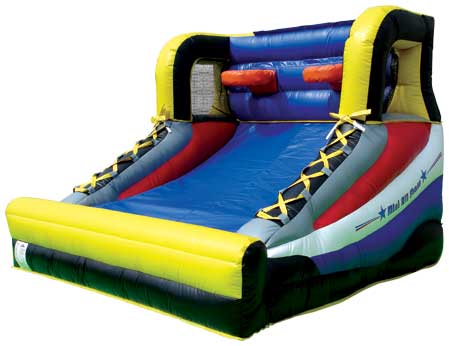 Bounce House Specifications:
Setup: Grass, Concrete
Space Required: 8′ x 8′
Outlet Required: 1 – 20 Amp
Weight Limit: n/a
Safe for Children: Yes
Safe for Adults: Yes
Fire resistant: Yes
Lead free: Yes
Basketball Challenge
Jump City's Basketball Challenge two lane Basketball Toss Inflatable Game! Players will be lining up to take their shot at the dual hoops, which allow for plenty of action, fun and competitive spirit as players shoot it out with mini basketballs. This inflatable basketball game is designed on both sides to look like the profile of a high-top basketball shoe, with a little wit in the lace-ups. A red, white, blue and yellow color scheme will match any party theme. We can have this Sporting attraction at your home or event in our extensive delivery area including Plano, Lewisville, Dallas, and many other cities.
Rent this inflatable game!
Shots From Our Instagram