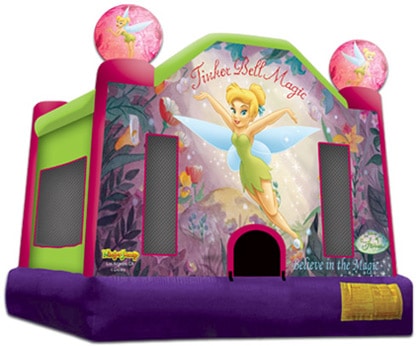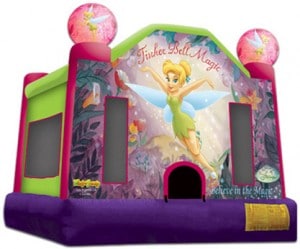 Bounce House Specifications:
Setup: Grass, Concrete
Space Required: 20′ x 20′
Outlet Required: 1 – 20 Amp
Weight Limit: 850 lbs
Safe for Children: Yes
Safe for Adults: No
Fire resistant: Yes
Lead free: Yes
Jump City's Tinker Bell Magic Bounce House
With a dash of pixie dust and our magical Tinker Bell Magic Bounce House, your next kid's party will surely be enchanting. This colorful and charming bounce house is the perfect addition to any Peter Pan, fairy, or magical-themed party. Let Tinker Bell fly (or shall we say jump) with your kids through fun pixie land adventures and help them "Believe in the Magic" just as it says on the bounce house. If you're ready to bring the magic to your next party, fill out the form on this page or call us at 972-539-5867.
This magical bounce house is fully licensed and promotes safe, healthy jumping that doubles as entertainment so your little one can stay "flying" across the bounce house for hours. Safety features include fire resistance and large mesh netting window panels on all sides that allow for constant air circulation and high visibility. We also thoroughly clean and disinfect our products after each use.
Our bounce houses can easily be set up on grass, concrete, asphalt, or even in an auditorium or gymnasium. Free no-contact delivery and pickup are available for all inflatable rentals to your Dallas, Southlake, Highland Park, Plano, Frisco, or surrounding area event. Interested in learning more? Fill out the form on this page or call us at 972-539-5867 and we'll get back to you as soon as we can.