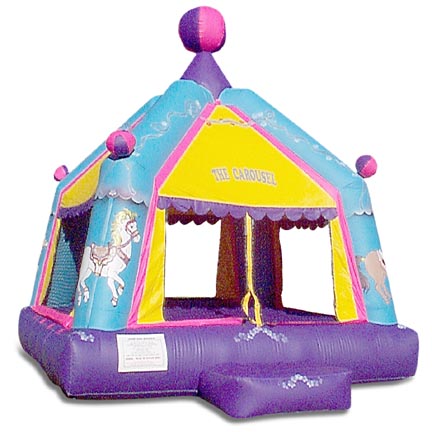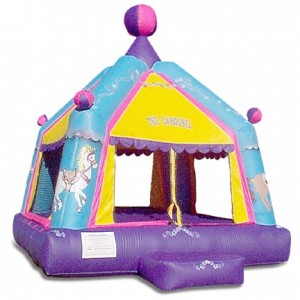 Bounce House Specifications:
Setup: Grass, Concrete
Space Required: n/a
Outlet Required: 1 – 20 Amp
Weight Limit: 600 lbs
Safe for Children: Yes
Safe for Adults: No
Fire resistant: Yes
Lead free: Yes
Jump City's Pretty Carousel Air Castle
Bring carnival-sized fun straight to your event with this elegant Pretty Carousel Bounce House. With this carousel bounce house in your yard, your event and kids will be transported to a beautiful carnival filled with laughter, joy, and delighted event guests. Kids will have endless adventures inside the bounce house while the outside will delight all the guests with its bright, fun colors. Rent our cotton candy machine and make whimsical, delicious cotton candy to match the pink, blue, yellow, and purple on this bounce house. To learn how to get this carousel bounce house rental to your next event, fill out the form on this page or call us at 972-539-5867 to request more information.
Jumping in our bounce houses is a safe, healthy activity disguised as entertainment for kids of all ages. Safety features include fire resistance and large mesh netting window panels on all sides that allow for constant air circulation and high visibility. We also thoroughly clean and disinfect our products after each use. 
Our bounce houses can easily be set up on grass, concrete, asphalt, or even in an auditorium or gymnasium. Free no-contact delivery and pickup are available for all inflatable rentals to your Dallas, Southlake, Highland Park, Plano, Frisco, or Dallas-area event. Interested in learning more?  Fill out the form on this page or call us at 972-539-5867 and we'll get back to you as soon as we can.